Get an early start on the celebration and find out what's new at the Stickley Museum at Craftsman Farms.

Join us for our GALA pre-party…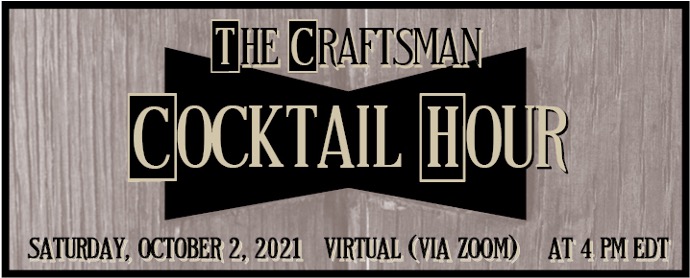 We're setting the mood for The Craftsman Gala with our FREE virtual pre-party: The Craftsman Cocktail Hour at 4:00 pm EDT. ​
Is it early in your time zone for a cocktail hour? Then time travel via Zoom to Craftsman Farms, where its 4:00 pm and a good hour to raise a glass to the Stickley Museum! Craftsman Cocktail Hour will double as the museum's opening reception for our new virtual exhibition: Circa 1917: Rediscovering Craftsman Farms. ​
Join us:​
For a conversation with exhibition curator Dr. Jonathan Clancy, Director of Collections and Preservation​
To explore the website with the curator of this comprehensive, multi-faceted exhibition examining Gustav Stickley's "Garden of Eden," from its largest to smallest details. ​
For a live exhibition Q & A with Cocktail Hour attendees​
Plus discover what's new at the museum: from new acquisitions in the museum's collections to custom, new items in the Craftsman Shop.​