Sunday, January 31, 2021 | 6:00 – 7:30 pm EST | $25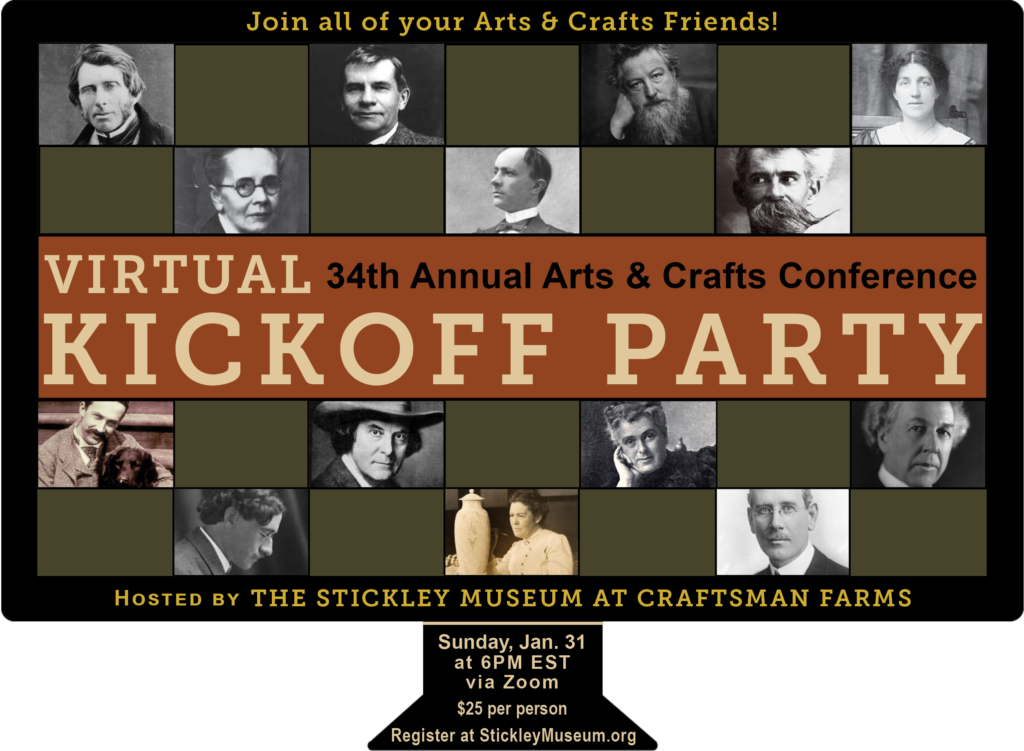 Our annual conference Kickoff Party is moving online!
Join the Stickley Museum at Craftsman Farms and all of your Arts and Crafts friends for a one-of-a-kind virtual kickoff event on
Sunday, January 31, 6 – 7:30 pm EST via Zoom.
What will we do at a virtual Kickoff Party?
We're glad you asked!…
Enjoy plenty of time to mingle with old and new friends in our breakout rooms.
We may not be together at the GPI, but we can still see each other and catch up. And sneak a look inside everybody's homes at the same time!
Win door prizes!
You might win our biggest prize: Two conferences passes and two nights at the Grove Park Inn for the 2022 National Arts and Crafts Conference!
Explore all of the offerings of the online National Arts and Crafts Conference and learn how to make the most of your experience.
We'll get the scoop from Conference Director Bruce Johnson (the one and only!) and his trusty sidekick Kate Nixon, Registration Manager.
Play Zoom Bingo!
Was that an "awkward silence"… Did someone say, "Sorry I was muted"… Wait, a cat just came into view…BINGO!
Dress as your favorite Arts and Crafts Superstar!
Fellas, there's time to grow that George Ohr mustache! What else are you going to do in January?
Support a good cause! Your party fee supports the operations of the Stickley Museum at Craftsman Farms.
We may be closed on-site but our museum is open online. Help us stay strong until we can open our doors for tours again!
---
If you haven't signed up for the 34th Annual Arts & Crafts Conference click here to learn more and to register: https://artscraftsconference.com/
---