Past:
Saturday, March 4, 2023 at 4:00 p.m. EST; Zoom
Log House Fireplace Restoration: A Panel Discussion
We are celebrating Gustav Stickley's March birthday a few days early with a special program for Members.
In the aftermath of damage from Tropical Storm Isaias 2020, we have shared regular updates about our plans to rebuild the Annex and simultaneously restore the Log House kitchen. During this period, while the museum was mostly closed to the public, we saw an opportunity to undertake much needed work on the Log House fireplaces, which may be Craftsman Farms' most important architectural feature. Each hand-hammered fireplace in the Log House includes a motto—six hoods with mottos are known to exist and five of them were installed at Craftsman Farms. In the more than one hundred years since the Log House was constructed, the fireplace hoods had begun to pull away from the walls. In addition, the copper hoods, which displayed a buildup of corrosion and damage from roof leaks over the years, needed attention from a conservator.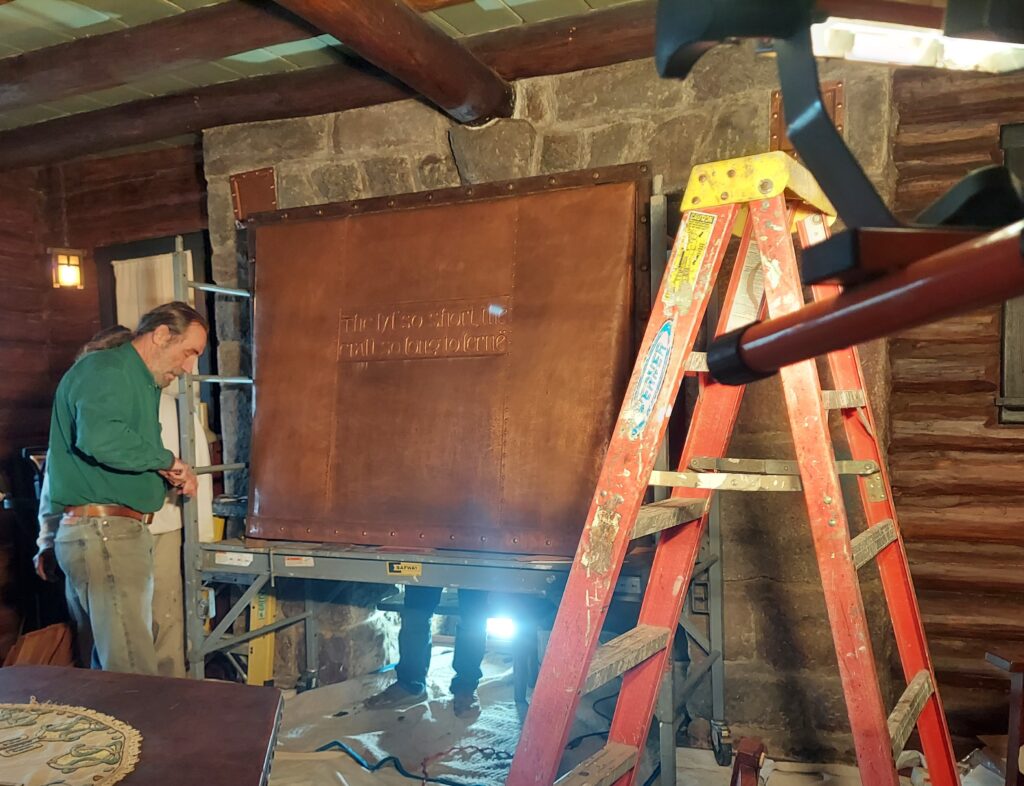 We began assembling a team to address the fireplace needs, including an architect to provide drawings detailing the anticipated work, a contractor to remove and re-install the hoods, a conservator to restore them, and the Director of Collections and Preservation, our own staff member, to oversee the entire project. We applied for and received a grant from the Morris County Historic Preservation, which would cover 80% of the $58,000 project. The Stickley Museum itself would commit to providing the remaining 20% of needed funds. Work began in December 2022 and was recently completed in February 2023. Through this effort, each fireplace hood has received careful attention from the conservator, and each is now attached securely, ensuring that they will stay in place far into the future.
Our online Members' program on Saturday, March 4 at 4:00 p.m. will bring together the fireplace restoration team in conversation with Jonathan Clancy. They will discuss the planning and execution of the project and the museum's approach to the conservation of these important resources. Join us for this illuminating conversation about the museum's efforts to preserve Stickley's beloved property and an early celebration of his March birthday.
The panel discussion will be led by Jonathan Clancy, Director of Collections and Preservation. He will be joined by:

Jack Abgott has been a historic preservation general contractor for over 40 years. He has worked on hundreds of National Register properties and dozens of National Historic Landmarks throughout Virginia and the Delaware Valley region. His projects have ranged from log cabins to lighthouses; from Jefferson, Latrobe & Strickland to Cret, Wright, and Venturi: from Independence Hall to Lucy the Elephant.
Jack has a degree in architecture from Syracuse University, a Master of Architectural History and a Graduate Certificate in Historic Preservation from the University of Virginia. For 27 years he has been associated with Nickles Contracting Inc. of Haddon Heights, New Jersey and is currently the Vice President for Operations.
An active member of The Rose Valley Museum at Thunderbird Lodge, Jack and his wife, Megan, live just down the road in a Mid-Century Modern house designed by H. Mather Lippincott in 1954.

Kurt Leasure has a wide range of experience involving the preservation of historic buildings. He has a background in restoration carpentry and received a master's degree in historic preservation from the University of Pennsylvania. Kurt is an Associate with HMR Architects in Princeton, NJ and has been with the firm for 15 years. He has served as the project manager for numerous projects at Craftsman Farms in that time, including the restoration of the master bedroom, the introduction of the fire protection sprinkler system at the log house, the construction of the new administration building, and currently the log house annex rehabilitation and kitchen restoration project.

T. Scott Kreilick is the President, CEO, and Principal Conservator of Kreilick Conservation, LLC based in Oreland, PA. Kreilick founded Kreilick Conservation in 1996 to provide condition assessments, laboratory and field analysis of materials, emergency response and stabilization, treatment, documentation, and maintenance of architecture, monuments, sculpture, industrial artifacts, and objects. With a particular focus on metals and stone, Kreilick has performed conservation treatments, assessments, or material analysis at more than forty (40) National Landmarks and conserved more than 300 monuments and outdoor sculptures. Kreilick received his B.A. and M.S. (Historic Preservation, Specialization in Architectural Conservation) from the University of Pennsylvania. Kreilick is a Professional Associate of the American Institute for Conservation.
To contribute funds toward this project, call the museum at 973-540-0311.