Past Events
Member-Exclusive Program
Thursday, September 28, 2023 at 6:30 p.m. EDT; Zoom
How the Delaware Art Museum Became a British Art Powerhouse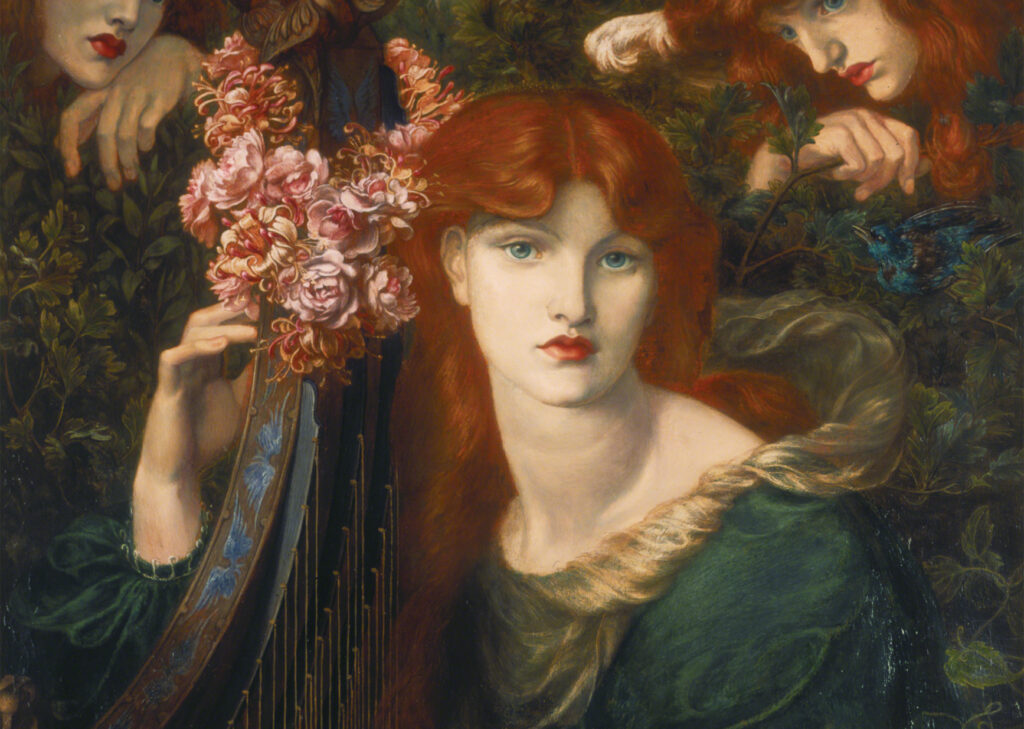 The Delaware Art Museum holds the largest collection of British Pre-Raphaelite art outside of United Kingdom. Join Dr. Sophie Lynford, DelArt's curator of Pre-Raphaelite art, for a special behind-the-scenes Zoom presentation. Sophie will share the story of how this incredible collection ended up in Delaware.
Courtesy of the Delaware Art Museum: La Ghirlandata, 1873, Dante Gabriel Rosetti, Oil on canvas, Guildhall Art Gallery
Pre-Raphaelite art, produced by British artists during the second half of the nineteenth century, is characterized by abundant detail and brilliant colors. Most Pre-Raphaelite art can be found in Britain, its country of origin. But during the late nineteenth century, Samuel Bancroft, an American textile mill owner in Wilmington, Delaware, began acquiring Pre-Raphaelite drawings and paintings. In 1935, Bancroft's heirs bequeathed his art to what would become the Delaware Art Museum, thus making Wilmington a destination for enthusiasts of British art. World-renowned paintings in Delaware's collection are currently on display in The Rossettis, an exhibition at Tate Britain through September 24 (and opening at Delaware on October 21). Sophie will describe how Delaware's paintings became the centerpieces of this major international show.
Meet Dr. Sophie Lynford
Dr. Sophie Lynford is the Annette Woolard-Provine Curator of the Bancroft Pre-Raphaelite Collection at the Delaware Art Museum. She is a specialist in British and American art of the nineteenth century and an expert on the Pre-Raphaelite movement, on which she has published and lectured widely. She is the author of Painting Dissent: Art, Ethics, and the American Pre-Raphaelites, published by Princeton University Press in 2022. Prior to joining the Delaware Art Museum, Lynford worked at the Harvard Art Museums, the Metropolitan Museum of Art, the New-York Historical Society, and the Yale Center for British Art.
Thursday, June 1, 2023 at 6:30 p.m. EDT; Zoom
Garden of Hearts: Madeline Yale Wynne and Deerfield's Arts and Crafts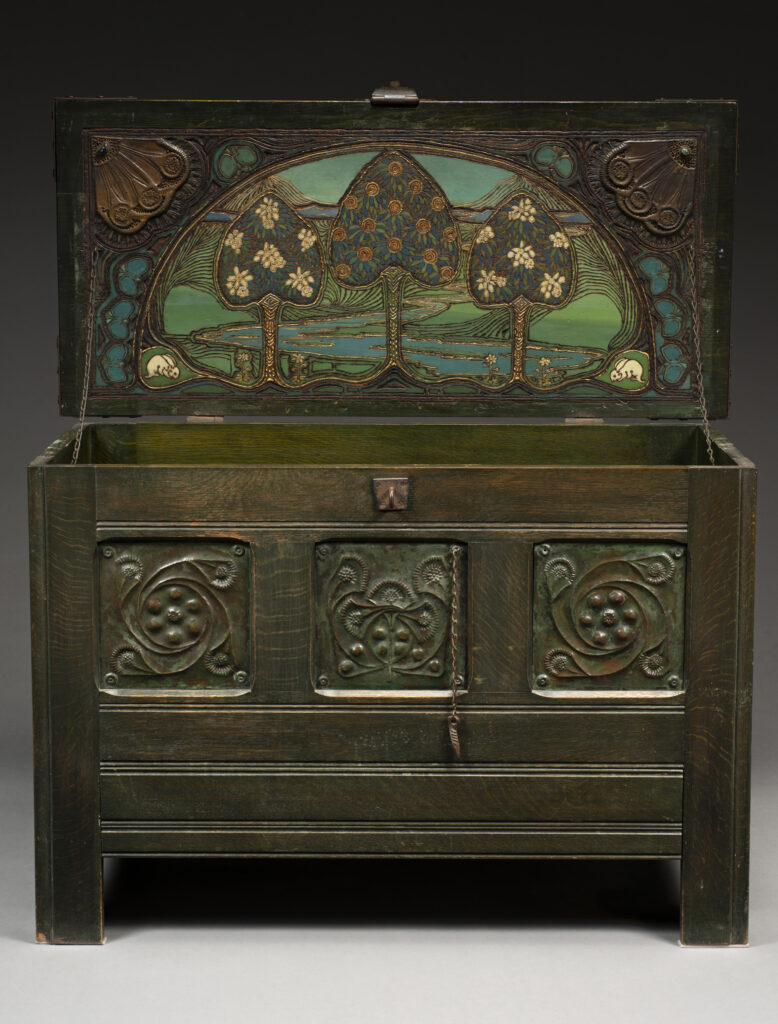 Members, join us for our NEW upcoming program inspired by the exhibition Garden of Hearts: Madeline Yale Wynne and Deerfield's Arts and Crafts at Historic Deerfield in Deerfield, MA.
Co-curators Suzanne Flynt and Dan Sousa will guide us through Historic Deerfield's newly-opened exhibition celebrating the discovery of Madeline Yale Wynne's (1847-1918) magnificent Garden of Hearts chest dating from 1903. Trained in the fine arts, Wynne's creativity primarily focused on metalwork and furniture. Dividing her time between Chicago and Deerfield, Wynne was a founding member of the Chicago Arts and Crafts Society in 1897, and the founder and longtime president of the Deerfield Society of Arts and Crafts. Through exhibitions and the press, Wynne became a leader in the Arts and Crafts Movement.
Suzanne Flynt served as Curator of Pocumtuck Valley Memorial Association's Memorial Hall Museum, Deerfield, for 35 years. She has a M.A. in Early American Culture and Museology from University of Vermont, and has worked as a consultant for the National Portrait Gallery. She authored The Allen Sisters: Pictorial Photographers, 2002, which won the Historic New England Book Prize, and Poetry to the Earth: The Arts and Crafts Movement in Deerfield, 2012. She currently serves as a trustee at Historic Deerfield, Inc.
Dan Sousa is the Assistant Curator at Historic Deerfield, where he is responsible for the museum's collection of early American furniture. Prior to joining Historic Deerfield's staff in 2017, he worked at the New England Historic Genealogical Society, and at Skinner Auctioneers and Appraisers. Over the years, he has been involved with different furniture study projects, including the Boston Furniture Archive, an online database organized by the Winterthur Museum. His curatorial research interests also include British ceramics, and he and colleague Amanda Lange are currently at work on a catalogue of Historic Deerfield's British ceramics collection. A proud participant of the 2019 Winterthur Institute program, he holds a B.A. in history from Providence College, an M.A. in history from the University of Massachusetts, Boston, and a certificate in genealogical research from Boston University.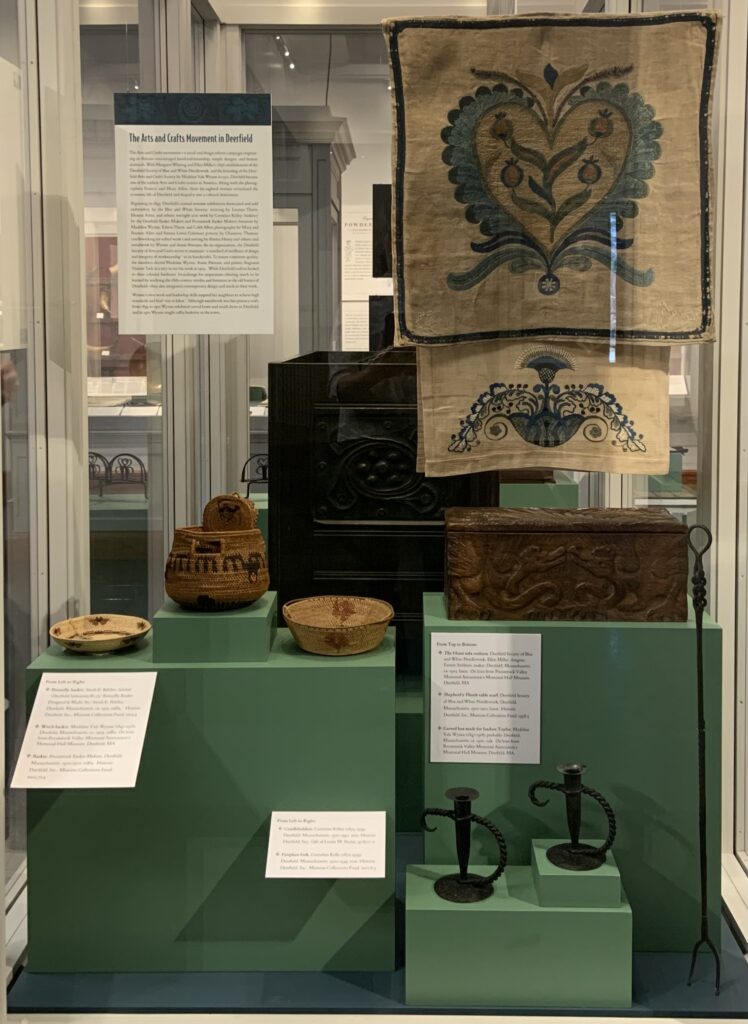 Saturday, March 4, 2023 at 4:00 p.m. EST; Zoom
Log House Fireplace Restoration: A Panel Discussion
We are celebrating Gustav Stickley's March birthday a few days early with a special program for Members.
In the aftermath of damage from Tropical Storm Isaias 2020, we have shared regular updates about our plans to rebuild the Annex and simultaneously restore the Log House kitchen. During this period, while the museum was mostly closed to the public, we saw an opportunity to undertake much needed work on the Log House fireplaces, which may be Craftsman Farms' most important architectural feature. Each hand-hammered fireplace in the Log House includes a motto—six hoods with mottos are known to exist and five of them were installed at Craftsman Farms. In the more than one hundred years since the Log House was constructed, the fireplace hoods had begun to pull away from the walls. In addition, the copper hoods, which displayed a buildup of corrosion and damage from roof leaks over the years, needed attention from a conservator.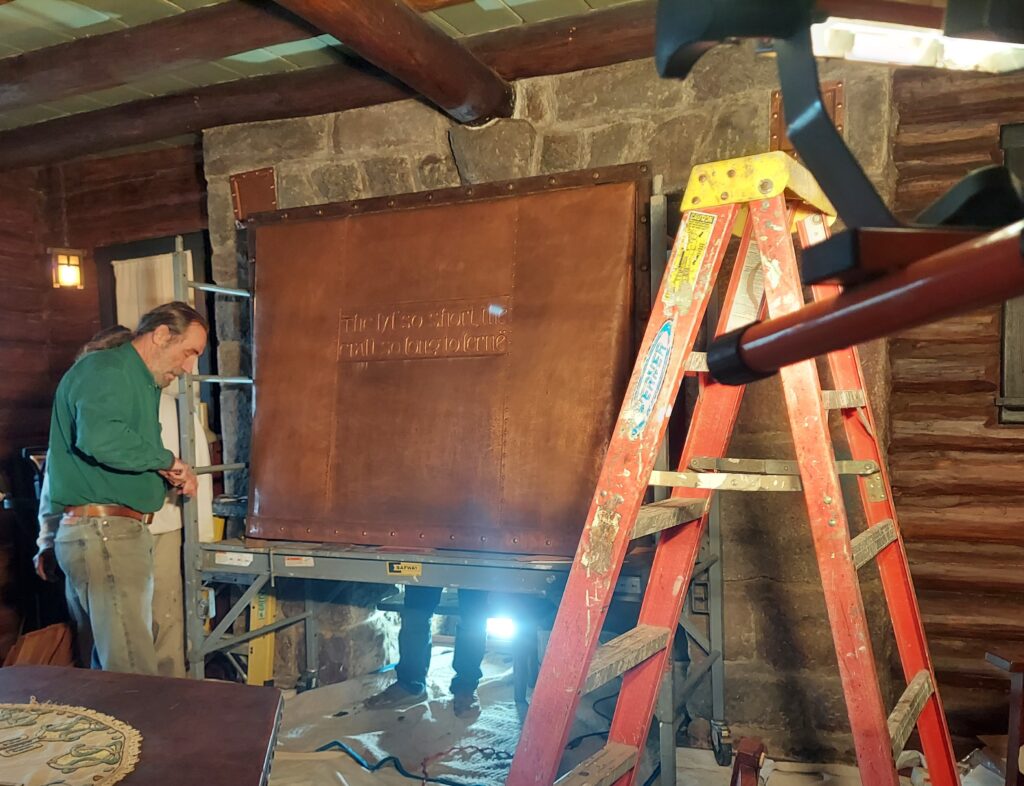 We began assembling a team to address the fireplace needs, including an architect to provide drawings detailing the anticipated work, a contractor to remove and re-install the hoods, a conservator to restore them, and the Director of Collections and Preservation, our own staff member, to oversee the entire project. We applied for and received a grant from the Morris County Historic Preservation, which would cover 80% of the $58,000 project. The Stickley Museum itself would commit to providing the remaining 20% of needed funds. Work began in December 2022 and was recently completed in February 2023. Through this effort, each fireplace hood has received careful attention from the conservator, and each is now attached securely, ensuring that they will stay in place far into the future.
Our online Members' program on Saturday, March 4 at 4:00 p.m. will bring together the fireplace restoration team in conversation with Jonathan Clancy. They will discuss the planning and execution of the project and the museum's approach to the conservation of these important resources. Join us for this illuminating conversation about the museum's efforts to preserve Stickley's beloved property and an early celebration of his March birthday.
The panel discussion will be led by Jonathan Clancy, Director of Collections and Preservation. He will be joined by:

Jack Abgott has been a historic preservation general contractor for over 40 years. He has worked on hundreds of National Register properties and dozens of National Historic Landmarks throughout Virginia and the Delaware Valley region. His projects have ranged from log cabins to lighthouses; from Jefferson, Latrobe & Strickland to Cret, Wright, and Venturi: from Independence Hall to Lucy the Elephant.
Jack has a degree in architecture from Syracuse University, a Master of Architectural History and a Graduate Certificate in Historic Preservation from the University of Virginia. For 27 years he has been associated with Nickles Contracting Inc. of Haddon Heights, New Jersey and is currently the Vice President for Operations.
An active member of The Rose Valley Museum at Thunderbird Lodge, Jack and his wife, Megan, live just down the road in a Mid-Century Modern house designed by H. Mather Lippincott in 1954.

Kurt Leasure has a wide range of experience involving the preservation of historic buildings. He has a background in restoration carpentry and received a master's degree in historic preservation from the University of Pennsylvania. Kurt is an Associate with HMR Architects in Princeton, NJ and has been with the firm for 15 years. He has served as the project manager for numerous projects at Craftsman Farms in that time, including the restoration of the master bedroom, the introduction of the fire protection sprinkler system at the log house, the construction of the new administration building, and currently the log house annex rehabilitation and kitchen restoration project.

T. Scott Kreilick is the President, CEO, and Principal Conservator of Kreilick Conservation, LLC based in Oreland, PA. Kreilick founded Kreilick Conservation in 1996 to provide condition assessments, laboratory and field analysis of materials, emergency response and stabilization, treatment, documentation, and maintenance of architecture, monuments, sculpture, industrial artifacts, and objects. With a particular focus on metals and stone, Kreilick has performed conservation treatments, assessments, or material analysis at more than forty (40) National Landmarks and conserved more than 300 monuments and outdoor sculptures. Kreilick received his B.A. and M.S. (Historic Preservation, Specialization in Architectural Conservation) from the University of Pennsylvania. Kreilick is a Professional Associate of the American Institute for Conservation.
To contribute funds toward this project, call the museum at 973-540-0311.