Closer Looking: Art & Design
Online Course for Winter-Spring 2023
COURSE DESCRIPTION
Closer Looking: Art and Design is an online course that explores great objects. Rather than confine our gaze to a single moment or a location, this series picks from the broad range of human achievement and seeks to expose you to new ideas and forms, to cultivate the sense of wonder and awe inherent in learning, and to equip participants with the tools to better understand the rewards of closer looking in their own lives. It is, inherently, an argument against the temptation for "distractions," for "multi-tasking," and the frenetic pace with which information comes at us and a reminder that the act of looking at–and truly seeing–an object is itself a reward. Slow and close looking quiets the mind and allows for those transcendent experiences that Joseph Campbell called "a radiance" that holds you in "aesthetic arrest." It is a reminder that Art and Design are not just pretty things, but necessary things that allow us to move beyond our own thoughts and experiences and connect more fully with each other and the world around us.

By dividing the sessions into categories (like lighting or sculpture) as opposed to chronologies we move beyond the shallow notion that history progresses linearly and think more deeply about the objects' aesthetics as a series of choices and negotiations. Caught between the competing realities of the maker, the era, the patron, and the audience, objects can both reflect and transcend the limitations of these histories, but only if we take the time to experience them. Each hour-long session features a maximum of ten objects to explore, to think through, and to see in a new way.

In truth, there is no absolute canon that we will look towards to guide us along this path; instead, the objects are selected for their aesthetic qualities, their novel approach to problem solving, or because of the compelling lives of those associated with it. Some choices may be familiar–even obvious–but many, I hope, will be a revelation. The goal is to slow down, to cultivate your inherent curiosity, and to see some great art and design in the hope that–with practice–you're able to regularly experience those moments of awe and radiance in your own life.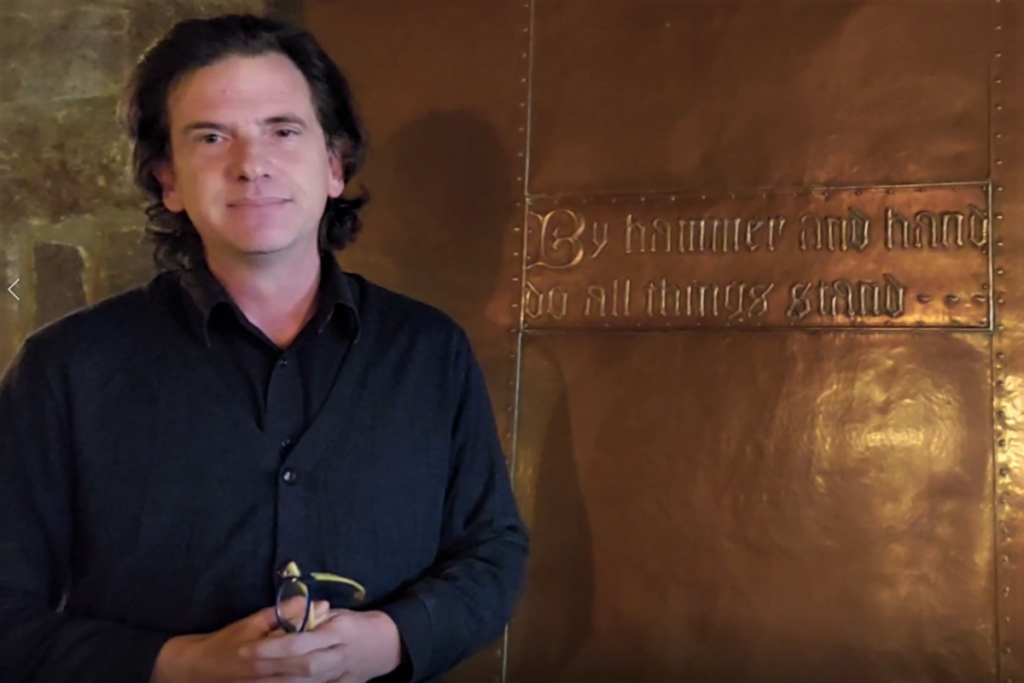 ABOUT THE INSTRUCTOR

Dr. Jonathan Clancy is the Director of Collections and Preservation at the Stickley Museum at Craftsman Farms. An author, educator, and curator Clancy received his doctorate in art history in 2008 from the Graduate Center. Formerly Director of the MA in American Fine and Decorative Arts program at Sotheby's, he left in 2017 to form an advisory group. As an independent consultant, he has worked with private clients and institutions on collection management, exhibition planning, label writing and research, and valuation.
Registration is required. Once registered and paid, you will receive an email prior to each session with a link to join.
Do you have a scheduling conflict for the live session? You can still enjoy the program. Register and we'll send you the recording! All paid attendees will be emailed a private link to the session recording when it is available, typically 4-5 days after the live program.
Missed us? You can also register retroactively. If you register for a session that has passed, you'll receive access to the recording when it is ready.
Haven't tried a session yet? Each session is planned as a "stand-alone" lecture, so you can take them all or attend the topics that interest you most.
SCHEDULE
Series 1: Prints and Works on Paper
1
Sat., Jan. 28, 2023
Prints and the Spread of Visual Culture
Printed works–from Hokusai's woodblocks to Rembrandt's etchings to Jasper Johns' graphic work–have both reflected and shaped their cultures. Produced in greater number than singular works of art, prints move more quickly and widely and through societies, transmitting ideas and iconography in ways that most singular works cannot. Prints, in many ways, made artists more widely-known and their art more accessible by reducing the cost of owning examples and placing examples in the hands of the many rather than restricting it to the few. Through original pieces as well as copies of works in other media prints helped form and expand a common visual language that continues to persist today.

Albrecht Durer, Melancholia I, 1514. Metropolitan Museum of Art.
2
Sat., Feb. 4, 2023
The Print as Propaganda
The wider distribution of prints made them extraordinarily useful as message carriers, exposing audiences to constant streams of propaganda both noble and nefarious. No sector was immune to the potential of the printed medium as a commercial tool for either goods or ideas as the examples in this session–whether sacred or profane–demonstrate. From the oldest know printed works in the ninth century to works by artists hired by the WPA during the Great Depression to punk rock fliers of the 1980s through today, the medium has enabled the dissemination of messages that unite, divide, confirm, and question the established orders. The ubiquity with which various propagandas populate our visual and aural worlds can make them particularly difficult to identify which–when those messages enable violence or hatred–can be particularly dangerous for the society.

El Lissitzky, Beat the Whites with the Red Wedge, 1919-20. Sotheby's.
3
Sat., Feb. 11, 2023
Woodblocks and Graphic Arts in the Arts and Crafts Movement
Print culture in the Arts and Crafts movement reflected the many influences that combines to help define the era, from medievalism, to Japonisme, to Art Nouveau, and an appreciation of the natural world. In many ways, the use of prints and the colors they provided help shape the Arts and Crafts interior and served as a reflection of the values that audiences associated with the movement. From well-known figures like Arthur Wesley Dow and Dard Hunter, to less familiar figures like Swedish-born B. J. O. Nordfelt, this session looks closely at great examples of prints for the Arts and Crafts home.

Arthur Wesley Dow, Rain in May, ca. 1907. Sotheby's
Series 2: Lighting
| | | | |
| --- | --- | --- | --- |
| 4 | Sat., Feb. 25, 2023 | Lighting 1 | |
| 5 | Sat., March 4, 2023 | Lighting The Arts and Crafts Movement | |
Series 3: The Minor Arts
| | | | |
| --- | --- | --- | --- |
| 6 | Sat., March 18, 2023 | The Minor Arts Part 1 | |
| 7 | Sat., April 1, 2023 | The Minor Arts Part 2 | |
Series 4: Painting and the Fine Arts
| | | | |
| --- | --- | --- | --- |
| 8 | Sat., April 15, 2023 | Painting and the Fine Arts Part 1 | |
| 9 | Sat., April 22, 2023 | Painting and the Fine Arts Part 2 | |
| 10 | Sat., April 29, 2023 | Painting and the Fine Arts Part 3 | |
Series 5: Copper
| | | | |
| --- | --- | --- | --- |
| 11 | Sat., May 6, 2023 | Development of Artistic Copper in the US | |
| 12 | Sat., May 13, 2023 | English Copper and the American Arts and Crafts | |
| 13 | Sat., May 20, 2023 | Artistic Copper in America comes of age. | |
MORE INFORMATION:
Craftsman Farms, the former home of noted designer Gustav Stickley, is owned by the Township of Parsippany-Troy Hills and is operated by The Stickley Museum at Craftsman Farms, Inc., ("SMCF") (formerly known as The Craftsman Farms Foundation, Inc.). SMCF is a 501(c)(3) not-for-profit organization incorporated in the State of New Jersey. Restoration of the National Historic Landmark, Craftsman Farms, is made possible, in part, by a Save America's Treasures Grant administered by the National Parks Service, Department of the Interior, and by support from the Morris County Historic Preservation Trust, The New Jersey Historic Trust, and individual donors. SMCF received an operating support grant from the New Jersey Historical Commission, a division of the Department of State and a grant from the New Jersey Arts & Culture Recovery Fund of the Princeton Area Community Foundation. Educational programs are funded, in part, by grants from the Arts & Crafts Research Fund.