During the reconstruction of the Annex and restoration of the Log House Kitchen, and in order to balance preservation with access, the Log House will be open for public tours, by appointment only, on a limited basis. We kindly ask that you respect the museum's rules during your visit. With your help, we look forward to providing an enjoyable and safe experience.

Open: Tours on Saturdays and Sundays and additional weekdays. Please see tour calendar for further details.

Closed: All Monday holidays, New Year's Day, Independence Day, Easter Sunday, Thanksgiving Day, Christmas Eve and Christmas Day.
Directions
Craftsman Farms is located at 2352 State Route 10, Morris Plains, New Jersey 07950. The entrance is located on Route 10 West at Manor Lane, about 3 miles west of I-287 in Parsippany-Troy Hills, New Jersey.
Museum Admission
$15 Adults
$10 Seniors
$7 Students
$5 Children (up to age 12)
Free for Members, and children age two and under.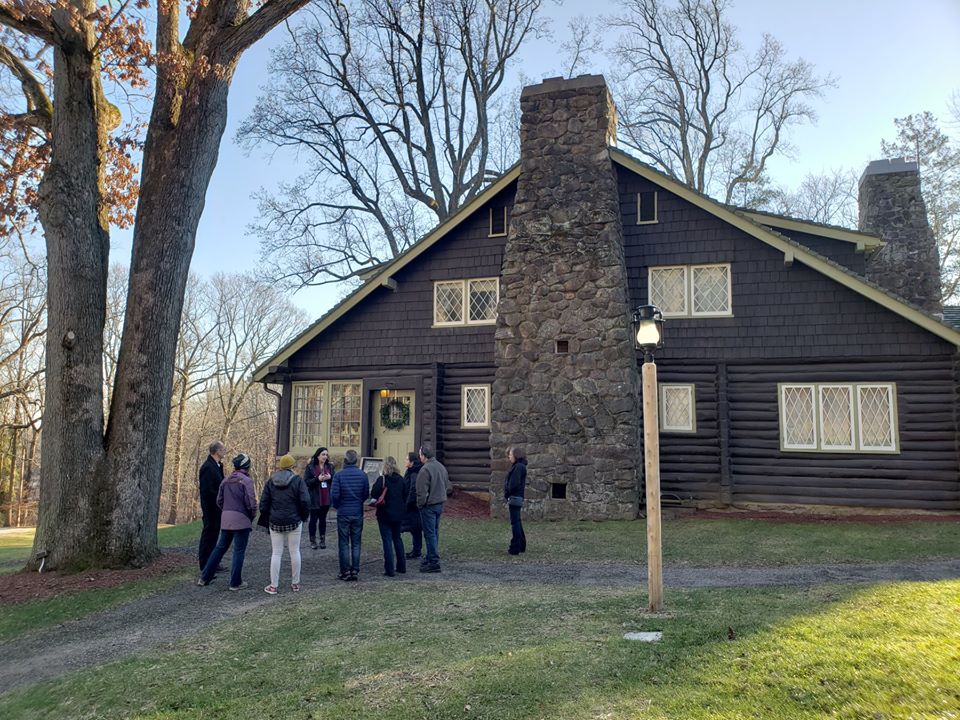 Accessibility
The Stickley Museum at Craftsman Farms is committed to assuring that all individuals can participate in our programs. Please inquire in advance about accessibility options.
The Craftsman Farms campus is a Parsippany Troy Hills municipal park and the grounds are open daily from dawn to dusk.
Visitor Information:

Please Note:
– Reservations are required for all tours. Book Now.
– Tours will be held rain or shine. If the museum cancels the tour due to extreme weather or other unforeseen circumstances, you will be notified by email and receive a full refund or credit.

Arrival:
– Craftsman Farms is located at 2352 State Route 10, Morris Plains, New Jersey 07950. The entrance is located on Route 10 West at Manor Lane, about 3 miles west of I-287 in Parsippany-Troy Hills, New Jersey. Directions.
– Tours during construction will gather at the ground level (rear) of the Education Center where restrooms and seating are available. The group will then walk between buildings along a gently sloped, paved path, to the Log House, approximately 100 yards.
– Please plan to arrive 10-15 minutes before your tour start time to allow time to park and walk to the Education Center Visitor Entrance.

Parking:
– Ample parking is available in parking lots located at the entrance to the Craftsman Farms campus. Visitors must then continue on foot to the Education Center Visitor Entrance, on the ground level at the rear of the building.
– Accessible parking for visitors with handicapped permits is available in the rear of the Education Center. Please follow the posted signs to the back of the building.

Accessibility:
– The Education Center (ground level) is fully ADA accessible with accessible restrooms.
– As a historic structure, the Log House was not designed for and cannot fully accommodate 21st century ADA needs. The first floor is reasonably accessible. The second floor is not and can only be accessed by stairs. A supplementary informative video that details the furnishings and contents of the second floor is available to those who are unable to access it. There are no public restrooms or seating in the Log House.
– During construction times we kindly ask that if you need accommodations (such as temporary seating options or wheelchair access) to please notify the museum at (973) 540-0311 in advance of your visit. As always, we look forward to seeing you!

In the Log House:
– Please do not touch any of the furnishings, including the walls or beams.
– Stay with your group. Should you need to leave the tour at any time, please ask your docent for assistance exiting.
– No outside food, beverages, gum or candy are allowed inside the house.
– Please no oversize bags or backpacks. Storage lockers are not available during construction.
– No strollers.

Photography:
– No flash photography.
– All photos taken by guests are for personal use. Commercial use is strictly prohibited.
– Equipment such as selfie sticks and tripods are not permitted.
– No video or audio recording, except with prior written permission.
– Posting photos to private social media accounts is ENCOURAGED! #stickleymuseum