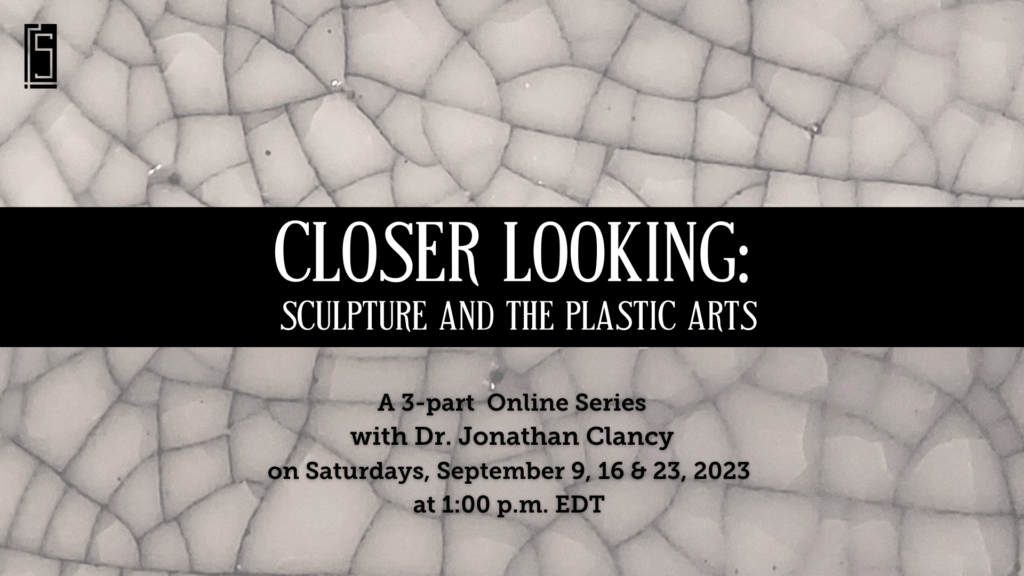 CLOSER LOOKING: SCULPTURE AND THE PLASTIC ARTS
ONLINE COURSE FOR FALL 2023
COURSE DESCRIPTION

Closer Looking: Sculpture and the Plastic Arts is an online course that explores great objects and serves as an addendum to our Closer Looking Series. The premise remains simple: rather than confine our gaze to a single moment or a location, this series picks from the broad range of human achievement and seeks to expose you to new ideas and forms, to cultivate the sense of wonder and awe inherent in learning, and to equip participants with the tools to better understand the rewards of closer looking in their own lives. It is, inherently, an argument against the temptation for "distractions," for "multi-tasking," and the frenetic pace with which information comes at us and a reminder that the act of looking at–and truly seeing–an object is itself a reward. Slow and close looking quiets the mind and allows for those transcendent experiences that Joseph Campbell called "a radiance" that holds you in "aesthetic arrest." It is a reminder that Art and Design are not just pretty things, but necessary things that allow us to move beyond our own thoughts and experiences and connect more fully with each other and the world around us.

In truth, there is no absolute canon that we will look towards to guide us along this path; instead, the objects are selected for their aesthetic qualities, their novel approach to problem solving, or because of the compelling lives of those associated with it. Some choices may be familiar–even obvious–but many, I hope, will be a revelation. The goal is to slow down, to cultivate your inherent curiosity, and to see some great art and design in the hope that–with practice–you're able to regularly experience those moments of awe and radiance in your own life..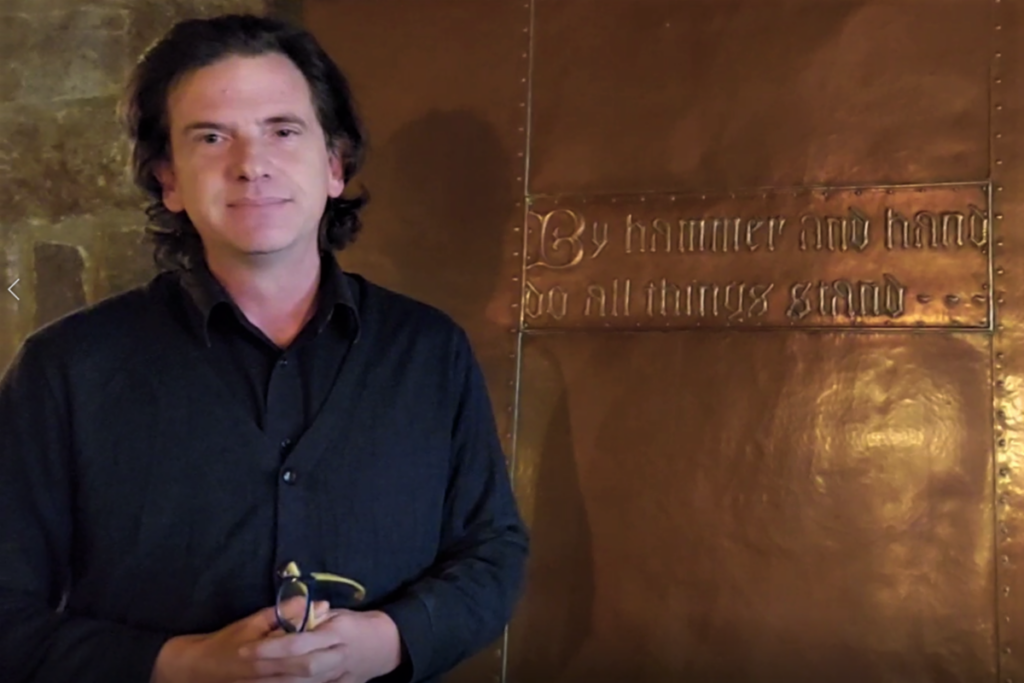 ABOUT THE INSTRUCTOR
Jonathan Clancy is the Director of Collections and Preservation at the Stickley Museum at Craftsman Farms. An author, educator, and curator Clancy received his doctorate in art history in 2008 from the Graduate Center. Formerly Director of the MA in American Fine and Decorative Arts program at Sotheby's, he left in 2017 to form an advisory group. As an independent consultant, he has worked with private clients and institutions on collection management, exhibition planning, label writing and research, and valuation.
Registration is required. Once registered and paid, you will receive an email prior to each session with a link to join.
Do you have a scheduling conflict for the live session? You can still enjoy the program. Register and we'll send you the recording! All paid attendees will be emailed a private link to the session recording when it is available, typically 4-5 days after the live program.
Missed us? You can also register retroactively. If you register for a session that has passed, you'll receive access to the recording when it is ready.
Haven't tried a session yet? Each session is planned as a "stand-alone" lecture, so you can take them all or attend the topics that interest you most.
3 Sessions for $25/ Session
Best Price! All 3 Sessions for $60 (Savings of $15)
SCHEDULE
1
Sat., Sep. 9, 2023
Closer Looking: Sculpture and the Plastic Arts
Part One, Power and Ritual
Despite their vast aesthetic and material differences, Houdon's George Washington (ca. 1792), an Assyrian Lamassu, and an exceptional headcrest by the Ejagham people (ca. 1900) each function in very similar ways. All share a common language of power and ritual that makes the experience of viewing them transcend conventions of location or era. This session looks closely at ten objects of different times and places to explore the rhetoric of power that sculpture traffics in.
Asikpo Edet Okun of Ibonda (attr.), headcrest, ca. 1875-1925. Dallas Museum of Art.

2
Sat., Sep. 16, 2023
Closer Looking: Sculpture and the Plastic Arts
Part Two, Small Things Considered
Eschewing the notion that size is necessary to captivate an audience, small sculptural works encourage a sense of intimacy and connection that sculptors have used to illustrate all aspects of life–both sacred and profane–from the earliest times until today. Their very portability made them easier to transport, which in turn made them far more likely to spread ideas and knowledge than their larger, stationary counterparts. From the Woman of Willendorf to an 18th century nativity scene made in Manilla and Ecuador, we'll explore the intimate space of small sculpture throughout time.
Adam Lenckhardt, Descent from the Cross, 1653. The Cleveland Museum of Art.
3
Sat., Sep. 23, 2023
Closer Looking: Sculpture and the Plastic Arts
Part Three, A World of Pure Form
Formalism–the idea that aesthetics matter more than content–is a peculiarly 20th century notion that gives formal analysis of works a bad name. This session explores works through the lens of form, not to avoid or deny content–which is frankly impossible if not highly problematic–but to look at how throughout history sculptors exploited the three-dimensionality of their medium and often maximized the visual impact for the viewer as a result. As is typical, we will wander across space and time with little concern for conventional boundaries exploring ten objects by diverse artists like Louise Nevelson, to an anonymous Angkor period Cambodian artist, to Constantin Brancusi.
Louise Nevelson, Sky Cathedral, 1958. Buffalo AKG Art Museum
3 Sessions for $25/ Session
Best Price! All 3 Sessions for $60 (Savings of $15)
MORE INFORMATION
Craftsman Farms, the former home of noted designer Gustav Stickley, is owned by the Township of Parsippany-Troy Hills and is operated by The Stickley Museum at Craftsman Farms, Inc., ("SMCF") (formerly known as The Craftsman Farms Foundation, Inc.). SMCF is a 501(c)(3) not-for-profit organization incorporated in the State of New Jersey. Restoration of the National Historic Landmark, Craftsman Farms, is made possible, in part, by a Save America's Treasures Grant administered by the National Parks Service, Department of the Interior, and by support from the Morris County Historic Preservation Trust, The New Jersey Historic Trust, and individual donors. SMCF received an operating support grant from the New Jersey Historical Commission, a division of the Department of State and a grant from the New Jersey Arts & Culture Recovery Fund of the Princeton Area Community Foundation. Educational programs are funded, in part, by grants from the Arts & Crafts Research Fund.