Arts & Crafts Conference: Virtual Happy Hour
Sponsored by Rago/Wright Auctions and Ted Lytwyn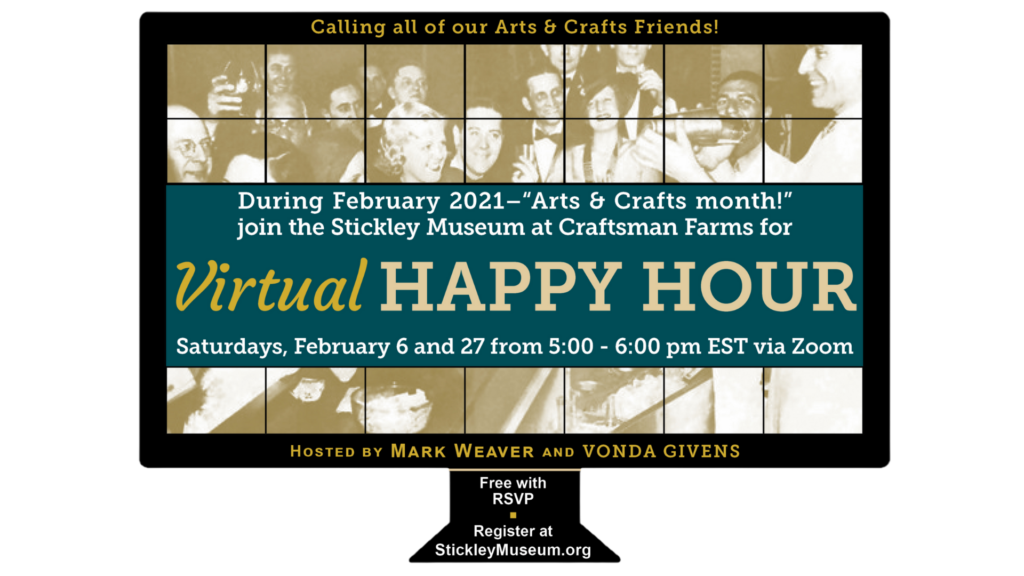 Meet us in the "Great Zoom Hall!"
In celebration of the National Arts & Crafts Conference's "Arts & Crafts Month," the Stickley Museum at Craftsman Farms is hosting a virtual Happy Hour on Saturdays, February 6 and 27 from 5:00-6:00 pm EST.
Free with RSVP
Join Mark Weaver, Vonda Givens and Kristen McCauley and all of your Arts and Crafts Friends for:
Breakout Rooms… Mingle with old friends and make new ones!
DIY Craft Cocktails… Stock up on bitters and tonic and lemon twists and we'll send the recipe ahead of time!
"I Saw It at the Movies" Trivia… Test your knowledge of Arts & Crafts on camera!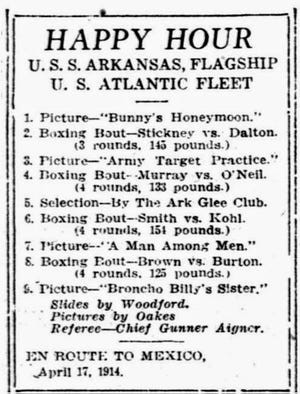 February 6th:
Craftsman Cocktail: Rum & Coke
The first official "Happy Hour" can be traced back to 1914 and the U.S.S. Arkansas. Officers and crew aboard the battleship were invited to a party one night while en route to Mexico. While these first "Happy Hours" probably didn't include discounted drinks, they did include various entertainments such as moving picture shows and boxing matches between crewmen. Check out the first round – "Stickney vs. Dalton"!
"Above the heads of the men there stretched a long line mast to stern, upon which swung…clothing bags, newly washed, white and ghostly…When the grey bearded ship's commander took his seat the lights were extinguished, and a moving picture was flashed upon the screen… It was queer to see a movie on midocean."
"After the pictures there came a few bouts with the gloves…[and] 'Rags', the ship's mascot, a curly brown spaniel, persisted in getting in the way." (The Washington Times. May 1, 1914.)
As a tip of our hat to those sailors and the first Happy Hour, we're featuring a rum and coke. The classic Rum & Coke also has military origins, as Coca-Cola first came to Cuba in 1898 in the bags of U.S. troops who invaded the island during the Spanish-American War. It was a Havana bartender, Fausto Rodriguez who served the first rum & coke to US Troop, "Barrio," according to Charles Coulombe in his book, "Rum: The Epic Story of the Drink That Conquered the World."
How to:
1 ounce Bacardi Gold Rum
3 ounces Coca-Cola
Build in a tall glass over fresh ice. Lime wedge garnish.Enjoy responsibly!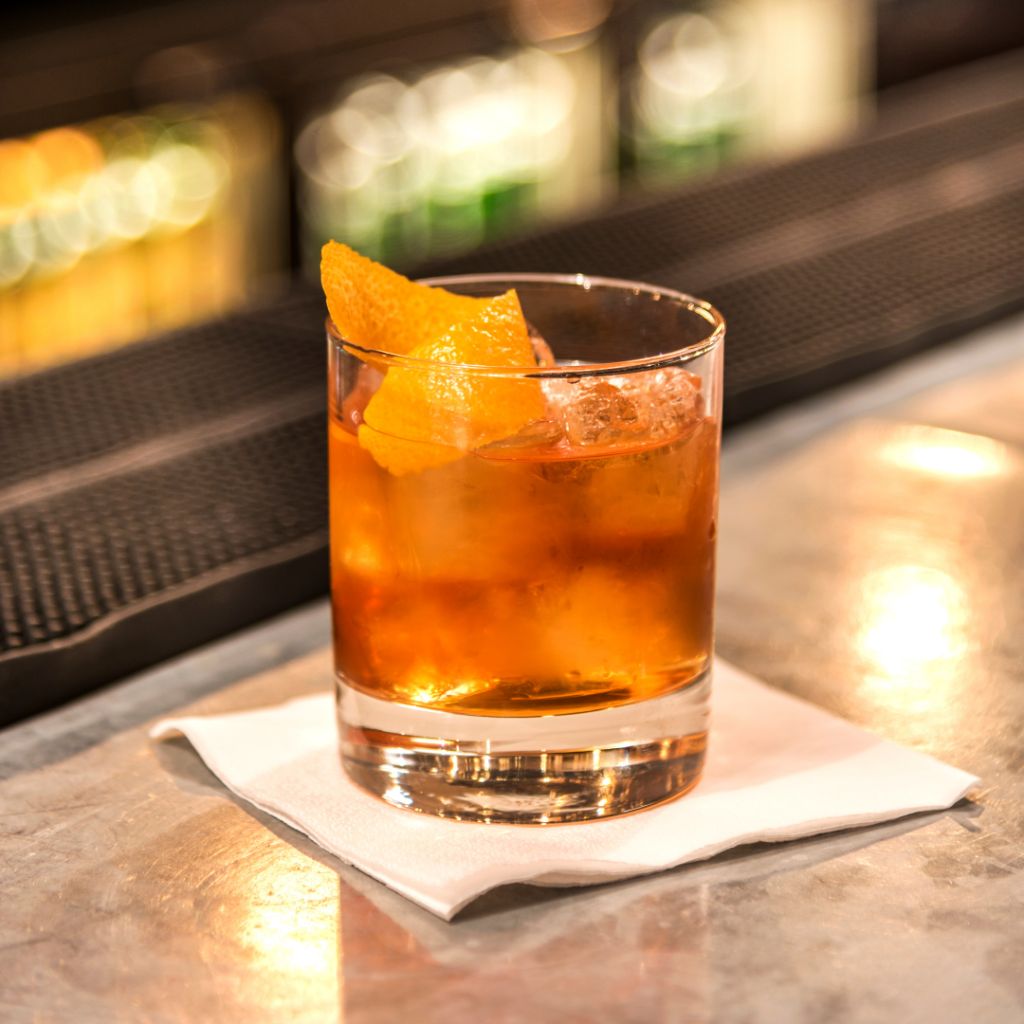 February 27th:
Craftsman Cocktail: Old Fashioned
You'll need:
• sugar cube or simple syrup
• bitters
• bourbon or rye whiskey
• Garnish: orange peel and maraschino cherry
Muddle the sugar cube and 2 dashes Angostura bitters with one bar spoon of water at the bottom of a chilled rocks glass. (If using simple syrup, combine bitters and one bar spoon of syrup.)
Add 2 ounces rye or bourbon. Stir.
Add one large ice cube, or three or four smaller cubes. Stir until chilled.
Slip orange twist on the side of the cube.
When not pursuing his over 40 year vocation as a classical musician, Mark Weaver has been involved in learning about the Arts & Crafts (A&C) movement for the past 25 years. Still a self proclaimed "rookie" when it comes to A&C scholarship, Weaver has served on the board of trustees of the Stickley Museum at Craftsman Farms (SMCF), and as the museum's Collections Committee chairman. For many years, Weaver was a Small Discussion Group Leader on Arts & Crafts metalwork at the National Arts & Crafts Conference at the Grove Park Inn (GPI) with friend and mentor, the late Rosalie Berberian. He has written several articles for the longtime A&C magazine Style 1900, and contributed to the "Mr. Stickleys" exhibitions and catalogues series by the SMCF, for the Great Hall exhibitions at the GPI conference.