Saturday, June 12, 2021
Tuesday, April 20, 2021
Tuesday, August 12, 2020
Covid-19 and Extension of Temporary Closure
The Museum and Grounds will be CLOSED as we recover from extensive damage caused by Tropical Storm Isaias. We apologize for any inconvenience. In the coming weeks, please watch for more news about this ongoing project and COVID-19 updates.
---
Tuesday, August 12, 2020
Tropical Storm Isaias
On Tuesday, August 4, Tropical Storm Isaias brought significant and unanticipated destruction across New Jersey. In the early afternoon, high winds ripped through Craftsman Farms and brought down a massive tree onto the Log House Annex, which, since 2008, has served as the museum's educational program space. This space, which was to become the museum's shop, after the forthcoming opening of our new Education Center, was an open-air pavilion in the Stickley-era, and was later turned into apartments and then a multi-use museum facility.
As soon as the Annex could be safely accessed, the museum's staff, with assistance from the Parsippany-Troy Hills Township building department and the Mt. Tabor Fire Department, began to assess and mitigate the damage. While, thankfully, the Log House and the museum's collections were unharmed, the damage to the Annex was severe. Over the next week, the museum will be focused on safeguarding the historic fabric of this building, while assessing its future.

With the help of insurance, the Annex will be rebuilt, but the task ahead presents steep new challenges to the museum in a year already riddled with uncertainty. Throughout the pandemic, though the Log House's doors have been closed for tours, the museum has been focused on staying "open" virtually. The museum's online educational opportunities have offered a meaningful way to remain vital and fulfill the museum's mission, while generating much needed operational income. Since early April, we have offered nineteen online class sessions, on a wide variety of Arts and Crafts topics, produced an online exhibition about Gustav Stickley's early factory and presented five Members-only programs--with two more to come--including virtual tours and a visit to Bruce Johnson's workshop. In addition, we have produced weekly e-newsletters and increased our in-depth social media content. While it will be our goal to continue with this work and find creative ways to engage with our nationwide audience, support is needed to ensure our ability to do that.
Executive Director's Message on Tropical Storm Isaias:
The destruction of Tropical Storm Isaias, for me, brought to mind the destructive power of Hurricane Sandy and devastating tornados in my rural hometown in middle Tennessee.
As the storm's winds tore through Craftsman Farms on August 4, from my office window, I saw branches and debris blowing wildly across the property. Then, before I could fully comprehend what was happening, the abrupt silence of a total power outage descended. The next chaotic hours were a blur of confusion, distress and gratitude as help arrived on the property. It was a day I can hardly remember but also a day I will never forget.
I have worked full-time at the Stickley Museum at Craftsman Farms for twelve years--for the past seven years as the executive director. Particularly during the past seven years, as I adapted to a new role, Craftsman Farms became a second home to me. I have spent countless hours here and with that is born a particular kind of intimacy. For me, it is a fringe benefit of this work. Authentic places like Craftsman Farms--places born out of one individual's passion--have a way of rooting in your heart. And while, yes, it is my job to protect and preserve this property, it is also my privilege. This sudden and violent destruction has been both hard to grasp and heartbreaking.
Since Gustav Stickley founded this property, and shaped it into his utopian vision, Craftsman Farms has endured. Over more than one hundred years, through the efforts of determined stewards, it has survived upheaval, fires, threats of development, hurricanes, blizzards, floods and more. The demolished Annex presents an all new threat to this property. While daunting, I know that nature's destructive storms are often accompanied by a period of rejuvenation and renewal. In the coming weeks, I will be looking for this "silver lining" to the dark clouds of Tropical Storm Isaias. I invite you to look with me. I also invite you to join me as a steward of Craftsman Farms. Join the museum's Board of Trustees, our volunteer team and staff, as we work to ensure the future of this property and its enjoyment by generations to come.
How can you join us in this effort?
Like most non-profits facing a year of uncertainty, financial support is needed. You can help in these ways:
If your financial resources are limited, you can also help by:
Sharing our eblasts.
Inviting your friends to take classes.
Making the Stickley Museum at Craftsman Farms your preferred charity on AmazonSmile.
---
Thursday, March 19, 2020
Updated COVID-19 (Coronavirus) Public Statement
Friends,
As of Thursday, March 19, the museum will be closed for tours and programs. Over the coming weeks, we will stay apprised of COVID-19 recommendations and will re-open when we are confident we can provide a safe and healthy environment for all.
In the meantime, our peaceful 30-acre property will remain open from sunrise to sunset. We invite you to visit, take a walk and take respite in Gustav Stickley's peaceful "Garden of Eden."
The museum's administrative office began operating remotely on Monday, March 16. While the office will not be staffed onsite, we will strive to maintain normal operations. Our staff will regularly retrieve phone messages and regular mail, but we encourage you to contact us by email at info@stickleymuseum.org. You also can stay connected, and enjoy our Craftsman content, by following the Stickley Museum at Craftsman Farms on Facebook and Instagram.
We look forward to the day we will open the doors of the Log House to the public again. Like the rest of the world, we face uncertain times and expect challenges ahead. We are exceedingly grateful for Stickley fans and a supportive worldwide Arts and Crafts community. We will need all of you to weather this storm.
With heartfelt sincerity, we extend our best wishes to all of you for good health, both physically and mentally. As we are all spending more time at home right now, in the words of Dora Greenwell hammered into one of the Log House fireplace hearths: we wish you all...
"A world of strife shut out,
A world of love shut in."
Warm regards,
Vonda Givens
Executive Director
---
Wednesday, March 11, 2020
COVID-19 (Coronavirus)
Friends,
As news about COVID-19 (coronavirus) continues to unfold, I'm writing on behalf of the Stickley Museum at Craftsman Farms to communicate our efforts to address this complex situation and to express our concern for the health of our visitors, volunteers and staff. We are privileged to share the Stickley Museum at Craftsman Farms with visitors from far and near, and we will strive to provide a safe and healthy environment for all.
The museum and its administrative offices are currently maintaining regular operations. Previously scheduled programs will be assessed on a case-by-case basis. Postponement and cancellation alerts will be circulated as needed.
To assist with nationwide efforts to prevent the spread of COVID-19, we ask staff, volunteers and visitors who are sick to stay home. We will ensure that hand washing supplies are available and will regularly disinfect frequently touched surfaces.
The museum will stay apprised of evolving recommendations from the Centers for Disease Control and Prevention, the American Alliance of Museums and local government and public health agencies related to the prevention and spread of COVID-19 and will share any necessary updates.
As always, we hope that this peaceful property will be a source of pleasure and respite for visitors, and we look forward to seeing you at the Stickley Museum at Craftsman Farms.
Thank you,
Vonda Givens
Executive Director
---
Wednesday, January 15, 2020
The Stickley Museum at Craftsman Farms Welcomes Director of Collections and Preservation
The Stickley Museum at Craftsman Farms is delighted to welcome Jonathan Clancy as its new Director of Collections and Preservation. In this newly created position, Clancy will guide the development, conservation and care of the museum's administrative, library and permanent collections. He will oversee exhibition activities, including curation of the museum's 2020 exhibition highlighting new research on Gustav Stickley's early factory, and manage preservation projects across the Museum's campus.
A 30-acre National Historic Landmark and historic house museum in Parsippany, New Jersey, the Stickley Museum at Craftsman Farms was the early 20th century country estate of Gustav Stickley. A designer, publisher and leader of the American Arts and Crafts movement, Stickley established a home-furnishings empire around the movement's aesthetic and is still known today for the Craftsman style which he popularized. Stickley developed Craftsman Farms to be an embodiment of the movement's ideals. Rescued from private development in 1989, the property is owned by the Township of Parsippany-Troy Hills and operated by the nonprofit Stickley Museum at Craftsman Farms, which celebrated its 30th anniversary in 2019.
In recent months, Clancy has served as a collections consultant to the museum, and in that capacity, steered the development of the new Stickley Museum Library, which will open in 2020 and encompass the museum's collection of rare and reference books, magazine and catalogs. Clancy played an instrumental role in establishing the museum's Scholars Symposium, now in its 10th year, and co-curated an exhibition of original furnishings to mark the 100th anniversary of Gustav Stickley's sale of Craftsman Farms in 2017.
"Jonathan Clancy has been a longtime friend to the Stickley Museum at Craftsman Farms," said Executive Director Vonda Givens. "Through his guidance and expertise, the museum has originated groundbreaking programs and important exhibitions and will soon open a new research library. Dynamic leadership is vital in guiding the museum in its 31st year—a new era. We are thrilled to have him join us as the Director of Collections and Preservation."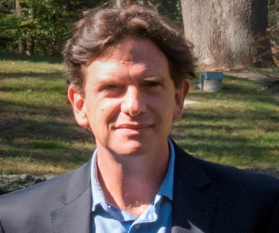 Jonathan Clancy is an author, educator, and curator who received his doctorate in art history in 2008 from the Graduate Center. Formerly Director of the MA in American Fine and Decorative Arts program at Sotheby's, he left in 2017 to form an advisory group. As an independent consultant, he has worked with private clients and institutions on collection management, exhibition planning, label writing and research, and valuation.
His publications include Beauty in Common Things: American Art and Crafts Pottery from the Two Red Roses Foundation (with Martin Eidelberg), Arts and Crafts Metalwork from the Collection of the Two Red Roses Foundation, as well as contributions to Frans Wildenhain 1950-75: Creative and Commercial American Ceramics at Mid-Century, and Jason Jacques Gallery 30 for 30: Thirty Years on the Hunt. His articles have appeared in numerous journals including The Journal of Modern Craft, The Journal of Design History, and American Art among others.
---
October 2012
Gift of a Morris Chair
Thanks to the generosity of one Colorado family, the Stickley Museum at Craftsman Farms (SMCF) has been entrusted with the care of one of their family's seats, a 1902 Gustav Stickley #2341 reclining chair in nearly perfect original condition. 1911 images of the Log House interior at Craftsman Farms show only one reclining chair form in them, and that form is the #2341.
In 1901 a successful and forward thinking attorney/businessman named John L. J. Jerome decided to build his family a summer home southwest of Denver on Christmas Hill near the town of Buffalo Creek, Colorado. According to Jerome's great grandson James G. R. Hart, "He would not build it in the traditional English Tudor or garish French provincial style. It must be in appearance more reminiscent of the homes in the Adirondacks that he and Lucy (Jerome's wife) loved: comfortable, casual, open, cedar-shingle clad, with enclosed porches and windows to take advantage of the stunning views. It must combine, he thought, the refinement of the East and the wide-open feel of the West. To his delight, Lucy warmed to the idea. It would be her sanctuary, surrounded by a natural moat."
La Hacienda — as the home would be known — was sighted and designed by the noted Colorado architect Frederick Junius Sterner (1862-1931) in a manner that could have come right out of Gustav Stickley's magazine The Craftsman. During a 1902 trip to Auburn, N. Y., Jerome purchased 35 pieces of early Gustav Stickley furniture for his home from G.W. Richardson & Son, early retailers of Stickley's furniture. Shipped in crates by train to Colorado, the furniture (along with wall coverings by William Morris) informed La Hacienda's interior scheme.
Over the last century, generations of the Jerome-Hart family have lovingly cared for the home and its furnishings. Through a turn of events, the family became interested in donating their chair to the SMCF. A consortium of friends of the Museum consisting of John Toomey, Robert Kaplan, Beth Cathers, Marilee Boyd Mayer, and David Rudd worked with the Hart family to bring their gift to Craftsman Farms, where it was officially presented to the museum this past October at its annual fundraising gala.
James G. R. Hart stated in his essay accompanying the chair that, "It gives the Jerome-Hart family great pleasure to pass on to the Stickley Museum at Craftsman Farms this Gustav Stickley Morris Chair. It occupied a keystone and beloved place in La Hacienda, witness to all that went on there. Our hope is that many people will see and appreciate it for its quality, artistry, and provenance."
— Mark Weaver
Collection Committee Chair