Stickley Museum members are friends who provide critical support, enjoy exclusive privileges, and become part of our nationwide community. The following virtual programs are FREE to Members with RSVP!

Not a Member? Join or renew today for access to these exclusive virtual opportunities!
---
UPCOMING:
Thursday, June 1, 2023 at 6:30 p.m. EDT; Zoom
Garden of Hearts: Madeline Yale Wynne and Deerfield's Arts and Crafts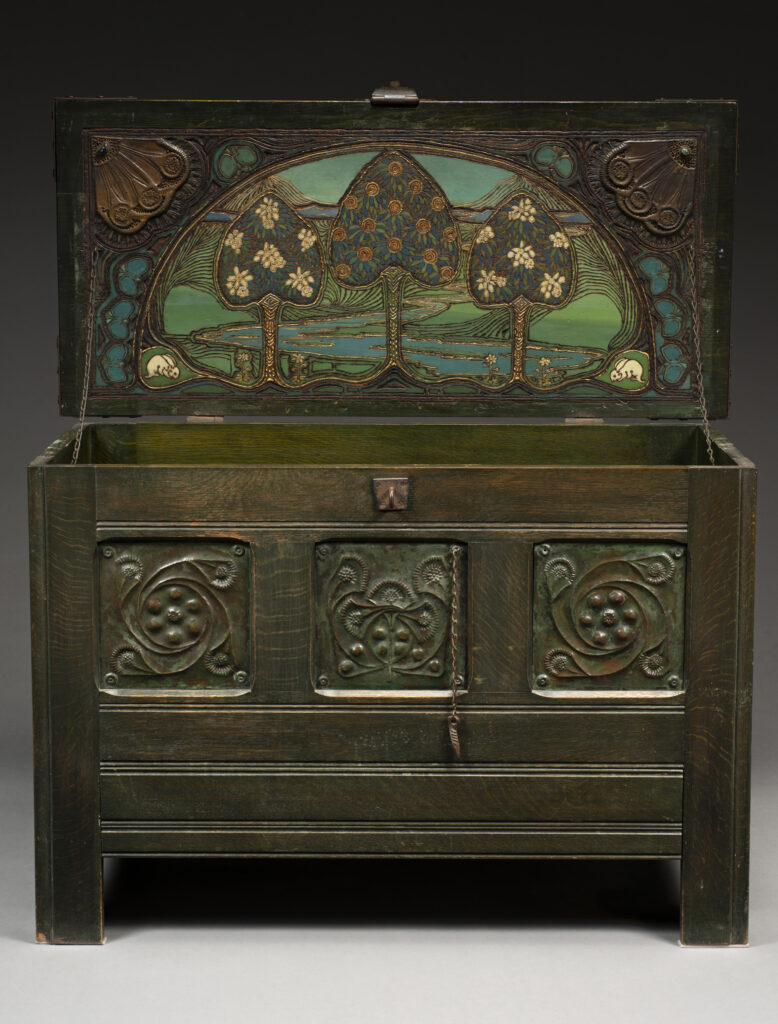 Members, join us for our NEW upcoming program inspired by the exhibition Garden of Hearts: Madeline Yale Wynne and Deerfield's Arts and Crafts at Historic Deerfield in Deerfield, MA.
Co-curators Suzanne Flynt and Dan Sousa will guide us through Historic Deerfield's newly-opened exhibition celebrating the discovery of Madeline Yale Wynne's (1847-1918) magnificent Garden of Hearts chest dating from 1903. Trained in the fine arts, Wynne's creativity primarily focused on metalwork and furniture. Dividing her time between Chicago and Deerfield, Wynne was a founding member of the Chicago Arts and Crafts Society in 1897, and the founder and longtime president of the Deerfield Society of Arts and Crafts. Through exhibitions and the press, Wynne became a leader in the Arts and Crafts Movement.
Suzanne Flynt served as Curator of Pocumtuck Valley Memorial Association's Memorial Hall Museum, Deerfield, for 35 years. She has a M.A. in Early American Culture and Museology from University of Vermont, and has worked as a consultant for the National Portrait Gallery. She authored The Allen Sisters: Pictorial Photographers, 2002, which won the Historic New England Book Prize, and Poetry to the Earth: The Arts and Crafts Movement in Deerfield, 2012. She currently serves as a trustee at Historic Deerfield, Inc.
Dan Sousa is the Assistant Curator at Historic Deerfield, where he is responsible for the museum's collection of early American furniture. Prior to joining Historic Deerfield's staff in 2017, he worked at the New England Historic Genealogical Society, and at Skinner Auctioneers and Appraisers. Over the years, he has been involved with different furniture study projects, including the Boston Furniture Archive, an online database organized by the Winterthur Museum. His curatorial research interests also include British ceramics, and he and colleague Amanda Lange are currently at work on a catalogue of Historic Deerfield's British ceramics collection. A proud participant of the 2019 Winterthur Institute program, he holds a B.A. in history from Providence College, an M.A. in history from the University of Massachusetts, Boston, and a certificate in genealogical research from Boston University.