Collections News: Howe to Succeed In Business
by Jonathan Clancy, Director of Collections and Preservation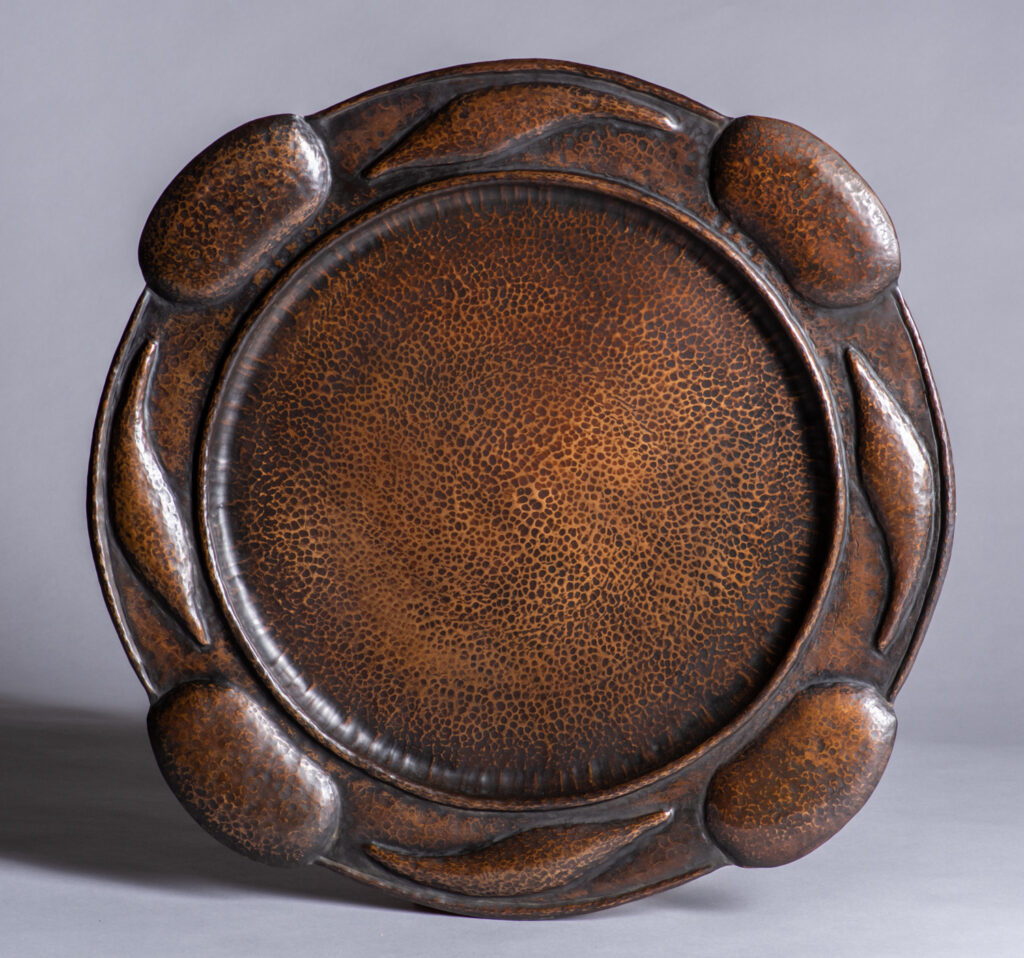 Using the metalwork aesthetic that Gustav Stickley was developing and promoting in the first decade of the 20th century, Benedict Studios rapidly transformed itself from a maker of silverplated goods into a manufacturer of domestic metalware goods in the latest fashion. If the change seemed to occur overnight, that was because it did occur overnight in September 1906, when Henry Benedict purchased the Onondaga Metal Shops (OMS), a short-lived firm that had been placed in involuntary bankruptcy.
Organized in 1905 by Edward C. Howe "to manufacture art metal goods consisting of hand hammered copper and brass lamps, trays, smoking sets, advertising signs and the like," Onondaga Metal shops (OMS), established the aesthetic that Benedict would later would follow. Although a large part of the aesthetic seems to have come directly from copying forms made by Stickley in the Craftsman Workshops, the firm also borrowed heavily from other firms and occasionally created original designs. When–as is the case with the above tray–the designs are directly modeled on Stickley's forms, OMS / Benedict used a thinner gauge of copper to execute their work. Even as Benedict Studios, the firm continued to produce models that relied heavily upon–sometimes to the point of copying–designs by other firms. If the business model was successful enough for Benedict to step in and purchase OMS, how then could OMS have gone bankrupt?
According to the Syracuse Journal, the answer was simple: it was Howe himself (who the paper noted "was inclined to follow the fast side of life socially.") The Syracuse Herald shed more light on the situation, none of it flattering, when they described Howe as "the well known young man who has deserted his wife, business and friends and skipped to parts unknown with an attractive young North side widow." Creditors soon petitioned for involuntary bankruptcy, and what remained of the Onondaga Metal Shops was purchased by Benedict.
It would be difficult to assert that Howe's life followed an upward trajectory after his decision to leave his wife, business, and creditors high and dry for the promise of romance. "Parts unknown" turned out to be New York City, and after several years of living there, Howe returned to Syracuse, where he eventually rejoined his jeweler father's business. In his absence, his wife divorced him and left for Florida to live with her mother. I imagine the "attractive young North side widow" coming to her senses one day and realizing that the type of man who leaves his family and his business at the drop of a hat is likely not a solid prospect for a long-term loving relationship; she does not appear to have returned with him to Syracuse. Described at his death as a "prominent Syracuse jeweler," little is known about his work and the degree to which he relied upon his father's business reputation to establish himself. Howe does not appear to have ever remarried, and died in his home, of pneumonia on February 24, 1919. Benedict Studios continued to advertise and display Arts and Crafts metal wares through at least 1912, but the company's trajectory after that is difficult to trace. Shifting tastes undoubtedly forced a move away from the Arts and Crafts aesthetic, but the suddenness and speed of that departure remains unclear. Unlike firms that strictly produced Arts and Crafts goods, Benedict might better be described as a firm capable of producing those wares but more interested in sales than style. As early as 1910, for instance, the firm introduced their Karnak Brass line to capture the market eager for Ancient Egyptian Decoration.