The Most Craftsman Holiday
by Vonda K. Givens, Executive Director
Thanksgiving, of all annual holidays, strikes me as the most Craftsman. Its customary colors—brown, red, orange, yellow—complement the Craftsman aesthetic (in fact, during a post-Thanksgiving clearance-sale buying spree, I once scored a vast supply of paper cocktail napkins that lasted through years of museum receptions). Thanksgiving's Craftsman feel also comes through in its focus on home and family. What could be more Craftsman than gathering around a communal table and expressing gratitude for an abundant harvest?
Last week, though the museum is currently closed, our staff, in need of holiday photos for social media—and perhaps a little holiday boost—set up a corner of the Log House's dining room for Thanksgiving. In ordinary years, during the week before Thanksgiving, members of the staff and a team of volunteers would have gathered to decorate the entire house in preparation for the bustling weeks of activity ahead (this year, our bustling activity will take place entirely online, but we promise it will be no less celebratory. Read More).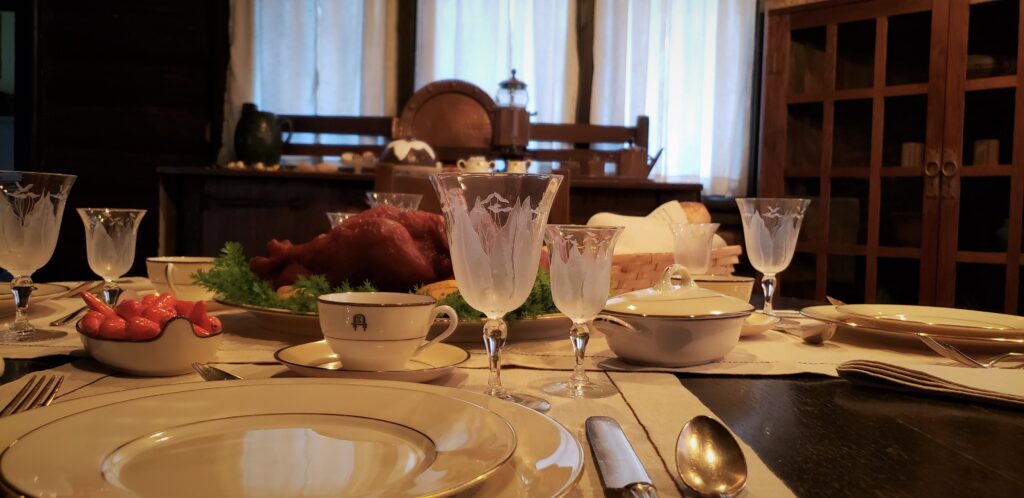 When fully decorated for the holidays, a beautiful tree anchors the Log House living room and its banister is draped with garland and bows. Handmade wreaths (assembled by Julie Peterson, who has often led—and fed!—the volunteer crew) are hung from the doors and throughout the interior, vignettes focus on period traditions with references to Christmas ideas promoted in The Craftsman magazine. Amid a full holiday display, the Christmas tree and festooned stairway, deservingly, take center stage. By contrast, the north corner of the dining room might be easy to overlook.
Over the years, this dining room display has become a kind of staff "pet project," coaxed into being through generous collections donations, particularly Lenox china from Stickley's Craftsman Restaurant, a handful of small purchases, and perhaps most importantly, a special annual loan of china from the family of Senior Manager Kristen McCauley. The McCauley family Lenox china, though lacking the "Als Ik Kan" shopmark that adorns the museum's china from The Craftsman Restaurant, is, otherwise, a flawless match—perfect for filling in gaps in the display. With this annual loan, we have been able to assemble four full place settings, which are paired with silver flatware and C. Dorflinger & Son's lovely Kalana Lily glassware (also from the museum's collections). Runners based on original Stickley textile designs were added next and from there, year by year, we have filled in the details of a faux feast—albeit a feast in reverse. Desserts came first (if you're searching for affordable, realistic, historically-accurate faux food, desserts are, by far, the easiest to find.) Petit fours, madeleines, and tiny cakes were acquired with the help of longtime Trustee Pete Mars, who also contributed tiny handcut Styrofoam dice which look remarkably like sugar cubes. In time, we worked our way to the main course. A faux turkey was selected last year and when it arrived, so did the realization that it required a platter! And last week, when I saw that platter in the center of the dining table, with the turkey atop a bed of faux parsley, my heart got a little lift. Our "pet project" remains a modest spread but one that was assembled thriftily and with great affection and care, and though it may not be the annual holiday show-stopper, that makes it distinctly Craftsman.
This Thanksgiving, in sharing this story about the north corner of the dining room, I hoped to give you a sense of this museum's sincere dedication to honoring the Stickley legacy, to showcasing the Log House's beauty in all seasons, and to sharing it with all of you, especially when we cannot be onsite together. Throughout its thirty-one years, the museum itself, like our holiday dining display, has benefitted from the generosity, ingenuity and vision of individuals, who have contributed financial resources, objects, expertise and time to develop and sustain it. When I share the museum's history, I often say it was "willed" into being by passionate people. That is how it began and that is how it continues to exist. On this most Craftsman of holidays, I invite you to gather, in pictures, around our Thanksgiving table. On behalf of everyone at the Stickley Museum at Craftsman Farms, thank you. Our harvest is abundant because of you.