I Met a Yellow Daffodil
Kristen McCauley, Senior Manager of Education and Interpretation
"When the bulbous plants break through the crust of winter, then Spring, evasive, whimsical and wild in her ways, cannot be gainsaid."

The Craftsman, March 1914.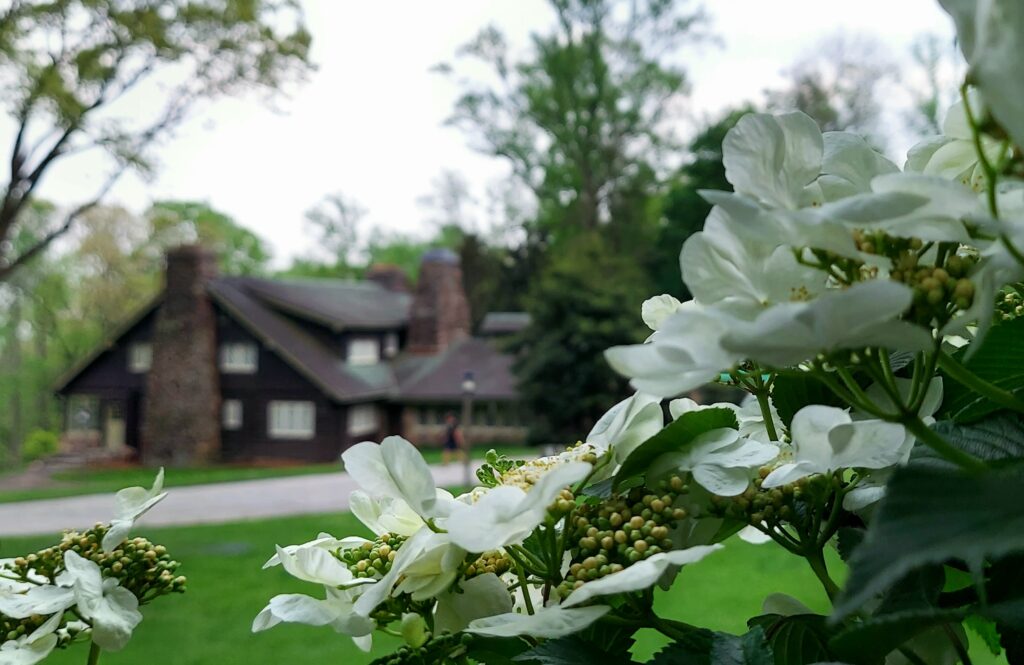 In early spring, the bright pink and yellow blooms of spring ephemerals spread like confetti over the landscape of Craftsman Farms, and boy, do we love to see it! In March, "snowdrops, crocuses and squills are in bloom and myriads of green spikes push through the earth." By April and May, the magnolias and cherry trees are in bloom and forsythia serve vibrant bursts of color across the landscape. Craftsman Farms is a beautiful place year-round, but she looks especially good in spring, on a bright sunny day with the distant sound of birds chirping in the trees. The cherry on top of this colorful spring sundae are the cheerful yellow daffodils that have popped up all over the landscape.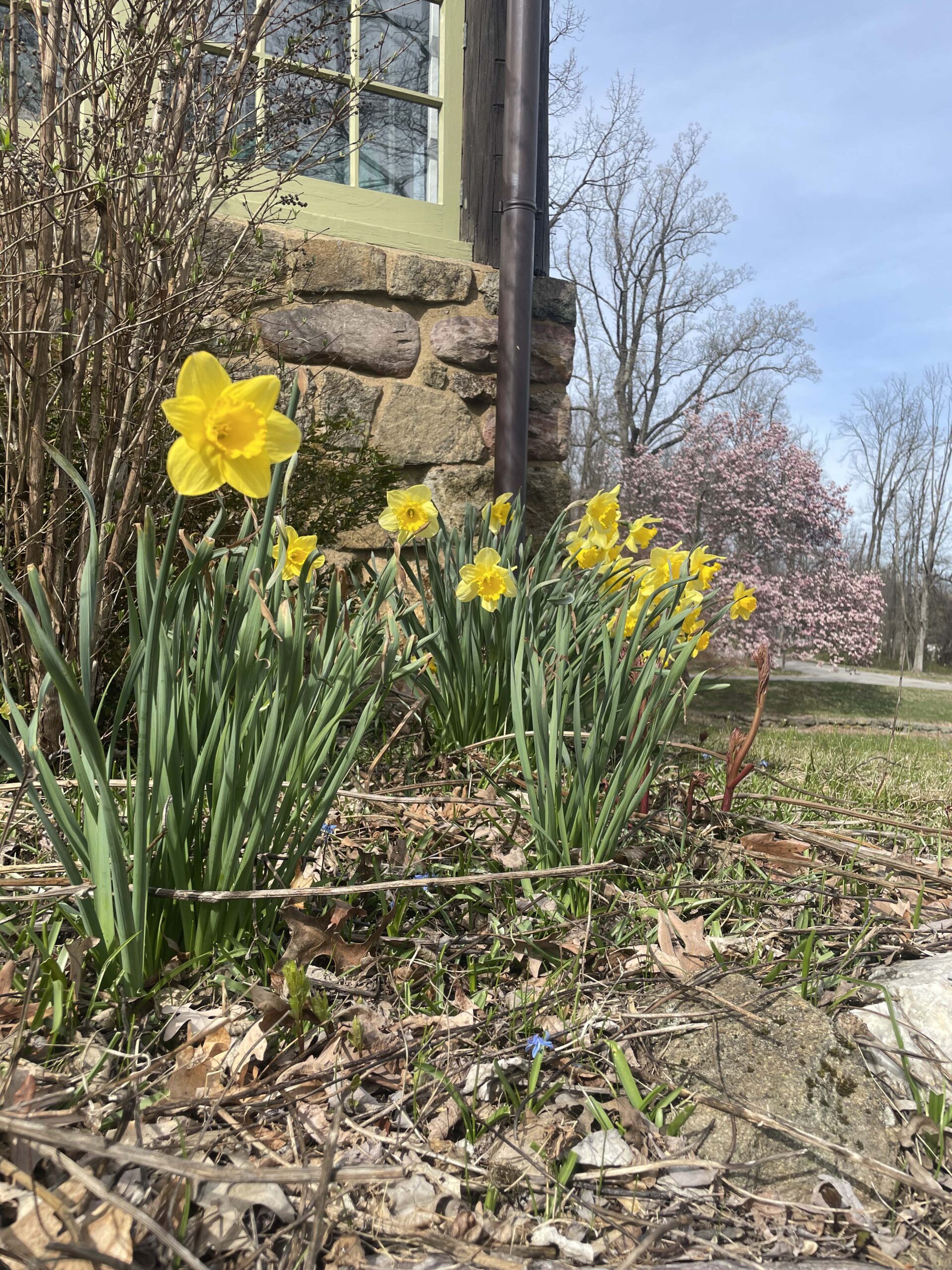 "The narcissus family including the daffodils … is of inestimable value in early spring, drawing from the heart of the earth to adorn it such a varied wealth of color and beauty. The whole family is renownedly hardy. Of late it has become popular to plant the narcissi naturalistically in the wilder outlying parts of the grounds, by the banks of streams, along paths and in many places semi-shaded; in fact, wherever the soil is good and where it is desired to let them remain year after year. For among their other good qualities is that of increasing rapidly, a single clump becoming large and very beautiful with the passage of time. In planting a garden for permanence, the narcissi are among the most important of all plants, for they give bloom and brilliance at a time of the year when perennials and annuals are still for a future day."

"Early Spring Gardens made Fragrant and Colorful with Flowering Bulbs," The Craftsman, March 1914.
Spring's vibrant colorful blooms provide much inspiration for content in The Craftsman magazine during its run. Grace Hazard Conkling, who contributed over a dozen poems and short stories between 1908 and 1915, returned often to topics of springtime as in In the Daisy Field (April 1914), and I Know the April's Come Again (April1915). Several of Conkling's poems appeared in The Craftsman before being published by the author in her first collection of poems, "Afternoons in April" in 1915.
Her poem, The Daffodil appeared in the April 1912 issue of The Craftsman which tells of a rather shy daffodil that is "shiny gold, but all The rest of her was green and tall."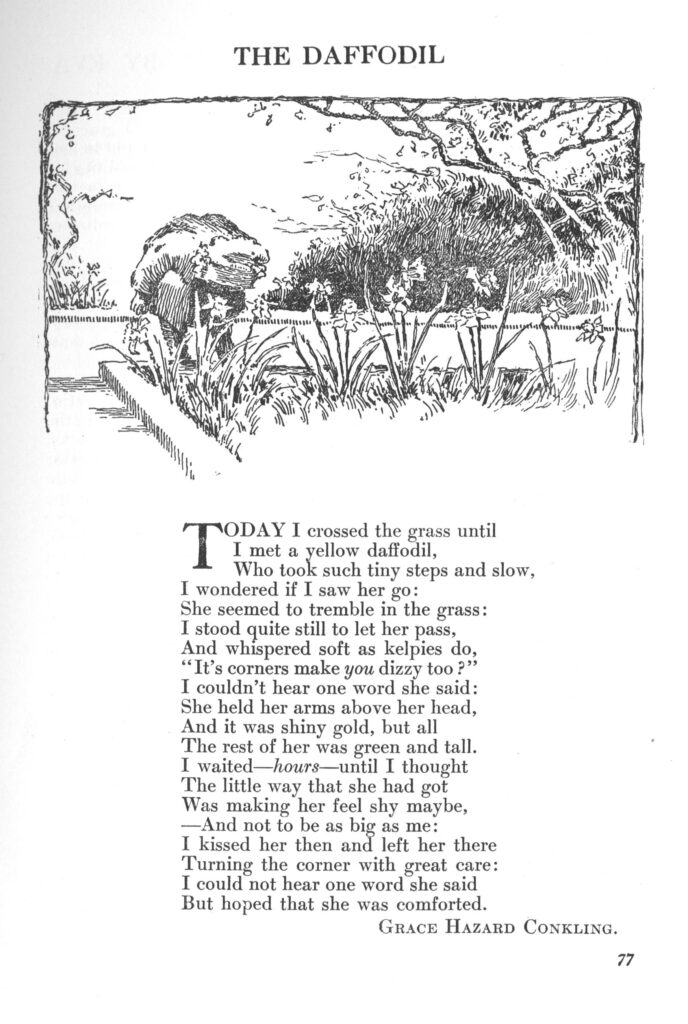 The Daffodil
Today I crossed the grass until
I met a yellow daffodil,
Who took such tiny steps and slow,
I wondered if I saw her go:
She seemed to tremble in the grass:
I stood quite still to let her pass,
And whispered soft as kelpies do,
"It's corners make you dizzy too ?"
I couldn't hear one word she said:
She held her arms above her head,
And it was shiny gold, but all
The rest of her was green and tall.
I waited — hours — until I thought
The little way that she had got
Was making her feel shy maybe,
— And not to be as big as me:
I kissed her then and left her there
Turning the corner with great care:
I could not hear one word she said
But hoped that she was comforted.
Grace Hazard Conkling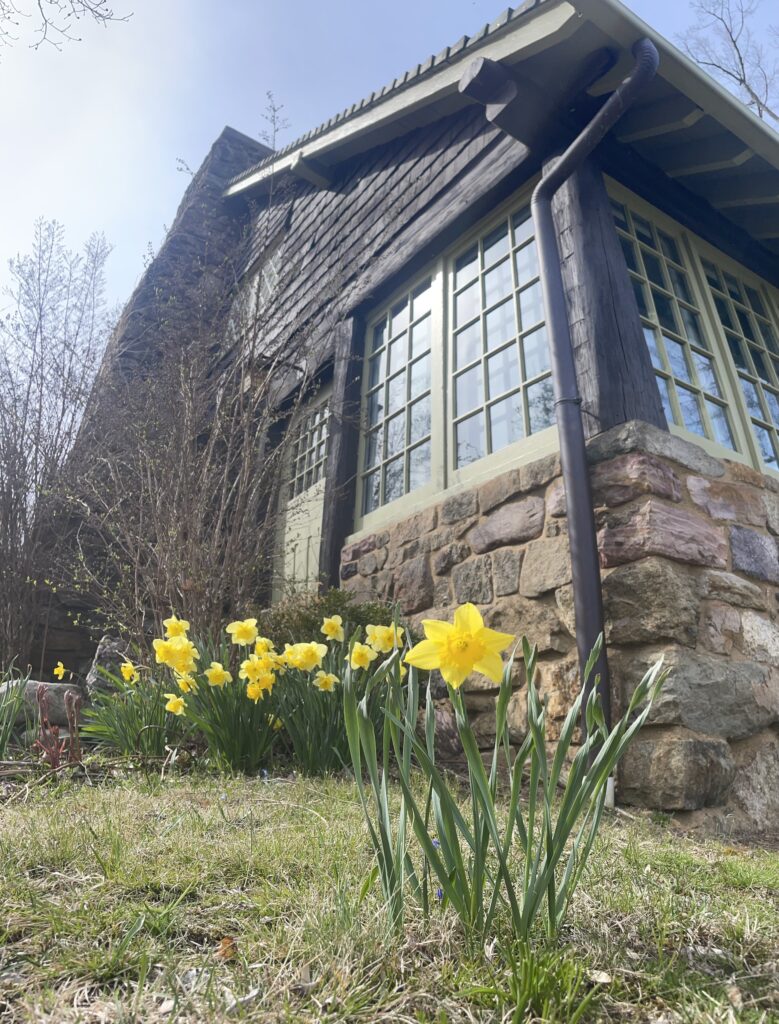 On a sunny afternoon in April, I took a walk around Craftsman Farms to see the daffodils, a flower that always reminds me of Alice in Wonderland's Golden Afternoon. Just a bit whimsical. It must be their trumpet shaped petals that make it seem as if they were about to break out in song. But it's because of their ability to survive the cold winter season and produce rewarding colorful blooms at the start of spring that, much like spring itself, daffodils have come to symbolize new beginnings. They're such a powerful symbol of hope and physical renewal that daffodils have even been used as living memorials to uplift grieving spirits. A reminder that every winter ends; and sunshine and flowers return every springtime.
The museum has been (mostly) closed for many months, first because of the COVID-19 pandemic and then because of construction. But we are looking ahead to reopening in the fall – a new beginning! Daffodils are abundant here, and museum staff and volunteers look forward to their arrival each spring. In fact, our new entrance sign, installed earlier this year, was planted with daffodils gathered from the property.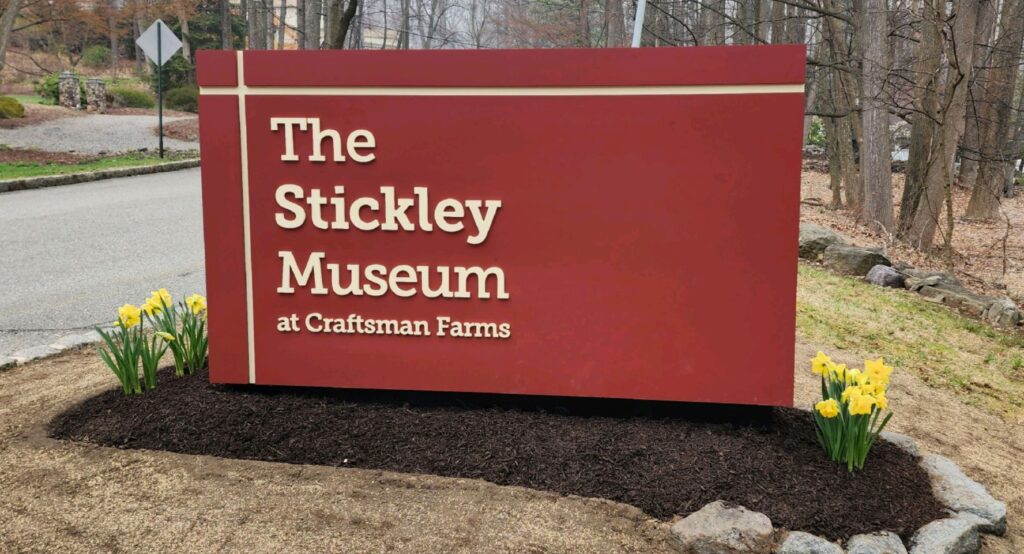 Let's meet a yellow daffodil! Pinwheels are an easy mess-free craft using only a few simple materials that you probably already have lying around. Make a pinwheel using yellow paper and it looks like a blooming daffodil! Construction paper works well, but you want a lightweight paper stock. We used origami paper that is yellow on one side and either white or orange on the other, and is already the right size!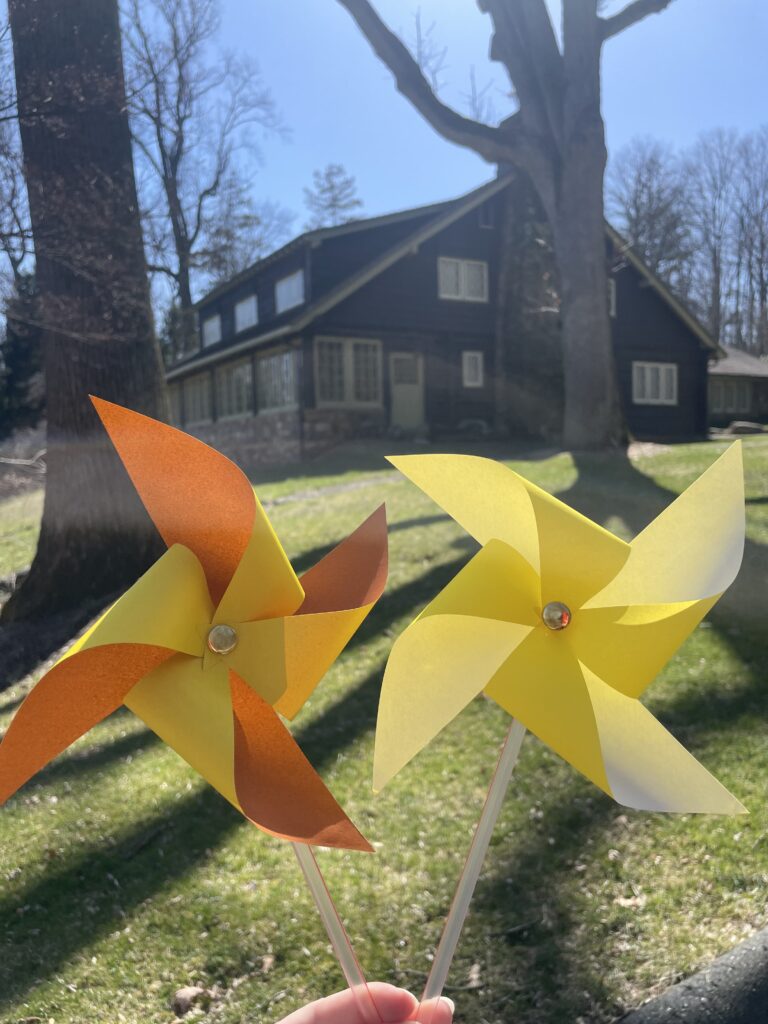 Daffodil Pinwheels
You'll Need:
Brass fastener
Straw
Yellow paper, cut into a 6×6 square
Hole punch
Scissors
Bead
Directions:
Use our Pinwheel Template or a 6×6 inch square piece of yellow origami paper.
Or, cut a piece of yellow paper into a 6×6 inch square.
Fold the square, corner to corner and crease, then unfold. You should have two folds that cross in the center of your square. Use these as your guide lines.
Using scissors, cut along the folds from the edge towards the center of the paper — stop cutting one inch from the center of the square.
Now you should be able to punch a hole in the center of your square using a hole punch. Punch holes in each of the four corners on one side of the cut. (See template).
Bring each corner into the center, overlapping the punched holes at the center.
Slide the brass fastener through the overlapping holes. The fastener should be able to move freely, this ensures the pinwheel will spin in the wind.
Punch a hole through the top of the plastic straw.
Slip the fastener through the bead, then into the straw. Bend the ends of the brass fastener to secure.