Farms Afield offers unique travel opportunities designed especially for Stickley fans and Arts & Crafts aficionados. Farms Afield is a benefit of membership. Join or renew today to participate and be notified of future travel opportunities.
Tuesday, March 21 - Friday, March 24, 2023
Meet us in Music City for the museum's Farms Afield: Nashville, Tennessee!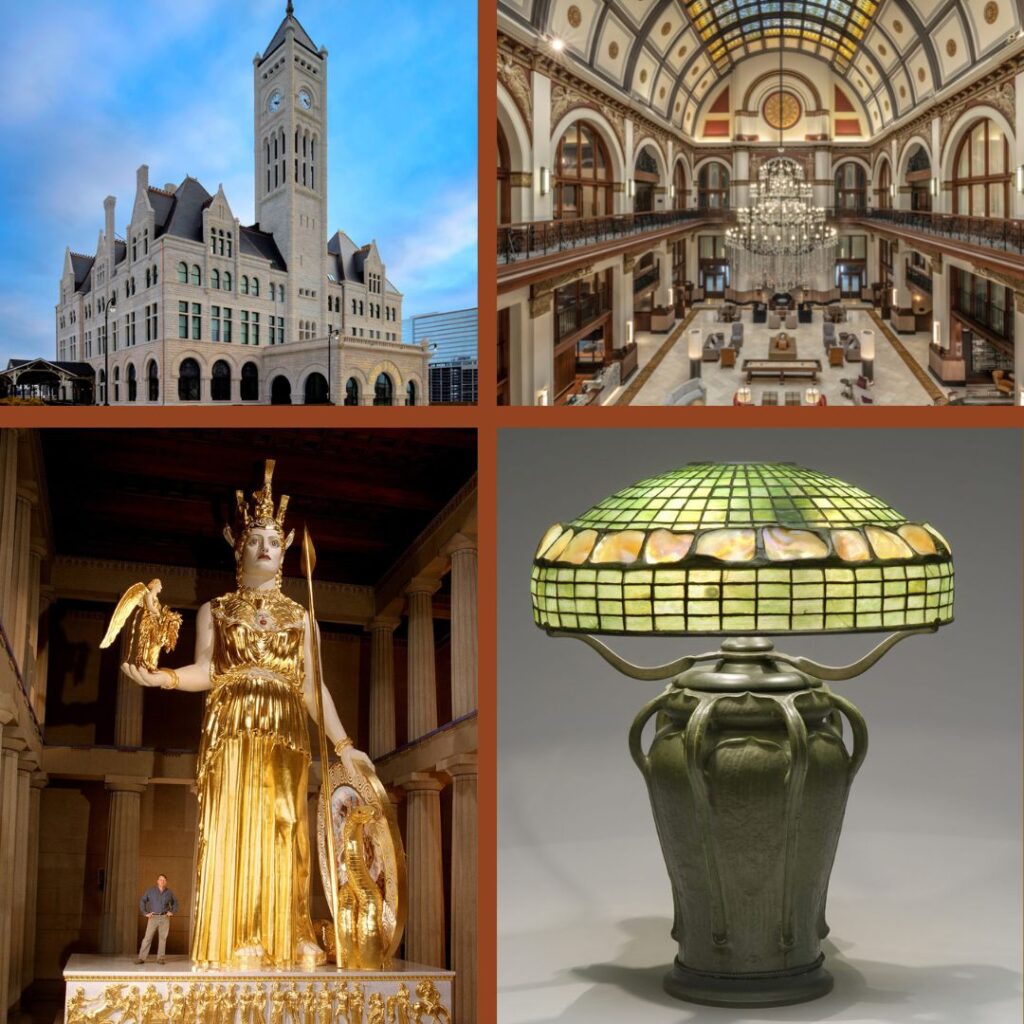 Our trip, over two packed days in March, will be hosted by Executive Director Vonda Givens, leading a trip in her beloved home state for the first time, and Director of Collections and Preservation Jonathan Clancy. Trip attendees will enjoy three nights at the historic Union Station Nashville Yards, once a bustling terminal on the L&N Railroad in 1900, and since 1986, a picturesque, luxury boutique hotel, and an easy walk or drive to Nashville's lively downtown.
Photo Collage credits: Upper l & r: Union Station Nashville Yards; lower l: The Parthenon Nashville's Athena Parthenos; lower r: courtesy of Cheekwood Estate & Gardens: George Kendrick (American, 1850-1919) for Grueby Faience Company (1894-1920) and Tiffany Studios (1885-1930), Lamp, c. 1900, Earthenware, leaded glass, and bronze, Collection of Crab Tree Farm. © Jim Prinz
Farms Afield: Nashville will feature:
• A Curator's Tour of the exhibition "Spanning the Atlantic: The Arts & Crafts Movement in America" at the lovely Cheekwood Estate and Gardens, 55-acre botanical garden and art museum on the historic Cheek estate. Spanning the Atlantic will feature more than 100 objects of fine art, furniture, decorative arts and textiles (including the objects pictured below) on display throughout the Cheekwood Mansion's temporary exhibitions galleries. With leading examples from the collection of Crab Tree Farm in Lake Bluff, IL, it will highlight works by Gustav Stickley, Rookwood Pottery, Marie Zimmerman, Adelaide Alsop Robineau, and Newcomb Pottery.
• TWO exclusive visits to collectors' homes. On the first stop of the trip, enjoy a private collection of art pottery, lovingly built over many years, and our last stop will feature an exquisite collection of English Arts and Crafts.
• A tour of the remarkable Parthenon Nashville. Built in 1897 as part of the Tennessee Centennial Exposition, the Parthenon Nashville is the worlds-only exact-size and detail replica of the temple in Greece, and its colossal statue of Athena Parthenos.

•A private tour of the renowned Hatch Show Print. A working letterpress print shop since 1879, Hatch Show Print uses its vast collection of vintage type and hand-carved imagery to create timeless designs that express and commemorate America's evolving cultural identity. Learn all about the history of this iconic letterpress poster shop and Nashville's story as Music City.
• An old-fashioned Southern breakfast at Nashville landmark, The Loveless Café, which has been serving its biscuits—and delicious Southern cuisine—to locals and tourists for more than 70 years.
And More! The planning for Farms Afield: Nashville is still underway. Watch for more updates about our itinerary in the coming weeks!
Space is limited. Reserve your spot early.
Transportation to Nashville is not provided. Once in Nashville, transportation to all sites by motorcoach is included.
Your Farms Afield fee includes three (3) nights at the Union Station Nashville Yards hotel, and 1 breakfast, 1 lunch, and 1 dinner.
All site-seeing is rain or shine. Attendees should expect moderate walking throughout the day.
Check-in at the Union Station Nashville Yards is at 4:00 PM (CST) on Tuesday, March 21, 2023. Check out is at 11:00 AM (CST) on Friday, March 24, 2023.
Farms Afield activities begin in the morning of Wed 3/22 and end with dinner on Thurs 3/23. An itinerary will be provided.
Farms Afield is a member benefit and open only to current members of the Stickley Museum at Craftsman Farms. Not a member? Join or Renew today to join us in Nashville!
With prior arrangement, attendees are welcome to pay trip fees in installments of their choosing.
Cancellation Policy: Full refunds are available through 1/22/23; after this date 50% refunds will be provided. No refunds are available after the trip begins.
Farms Afield 2023 Fees:
Please Note: Booking is per person and based on double occupancy. There is a $500 supplement for a single room.
Double Occupancy:
$2000 per person
Single Occupancy:
$2000 + $500 single supplement ($2500 total)