Farms Afield offers unique travel opportunities designed especially for Stickley fans and Arts & Crafts aficionados. Farms Afield is a benefit of membership. Join or renew today to participate and be notified of future travel opportunities.
Wednesday to Saturday, November 1-4, 2023
Discover Delaware's beautiful Brandywine Valley on our fall Farms Afield! Meet us in Wilmington for a two-day, three-night trip exploring the beauty and history of this picturesque region.
*Farms Afield Notice*
Limited availability. If interested in attending, please contact the Museum office at 973.540.0311 for more information.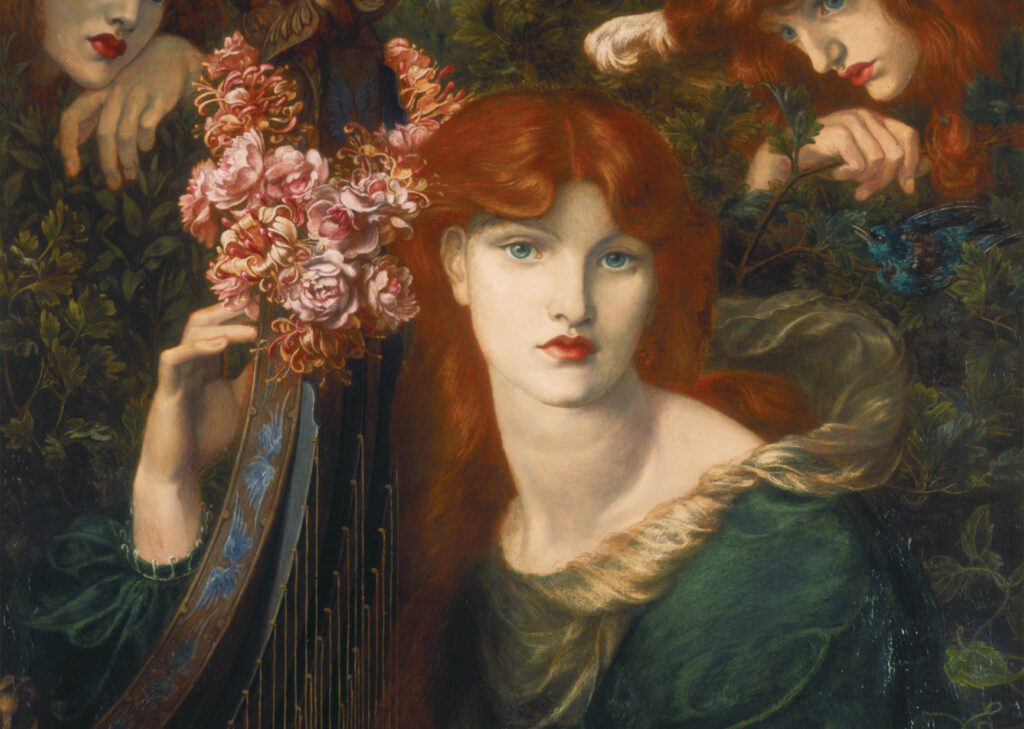 *Farms Afield Notice*
Limited availability. If interested in attending, please contact the Museum office at 973.540.0311 for more information.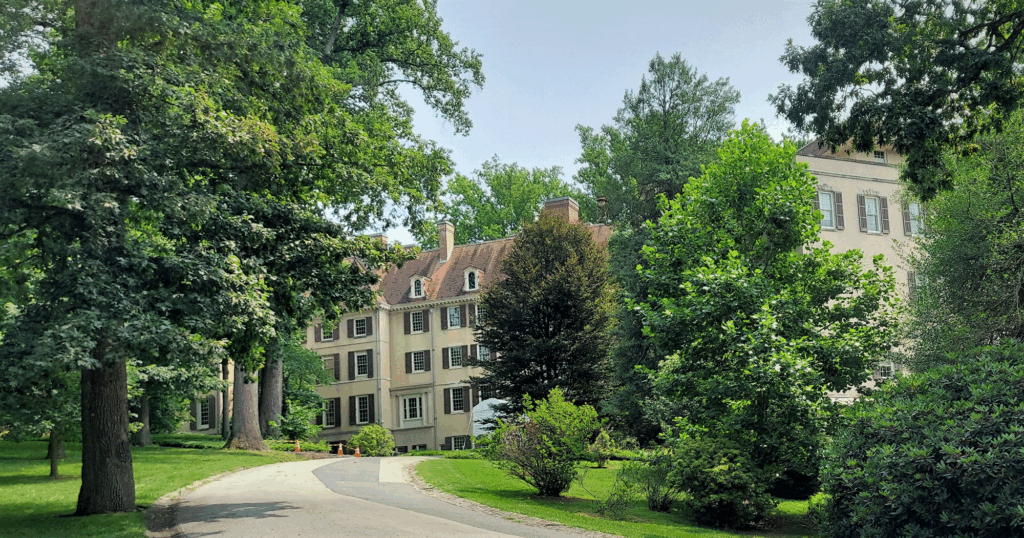 Farms Afield: Delaware's Brandywine Valley will be hosted by Executive Director Vonda Givens and Director of Collections and Preservation, Jonathan Clancy.
Experience Winterthur Museum, Garden, and Library (pictured above): Nestled in the rolling hills of the Brandywine Valley, Winterthur estate, with its 60-acre naturalistic garden, is the premier museum of American decorative arts, with an unparalleled collection of nearly 90,000 objects made or used in America since 1640. The collection is displayed in the magnificent 175-room house, much as it was when the family of founder Henry Francis du Pont called it home. Winterthur Library's extensive collection of rare books and manuscripts includes Gustav Stickley's business records. Our full-day experience at the Winterthur estate, planned especially for the Stickley Museum's group, includes a visit to the garden, guided tours of the home and its collections, and a tour of the library. Our library tour will be led by a Winterthur librarian, who will share fascinating materials from their Stickley and Arts and Crafts archives. Our experience will include time for self-guided exploration at the end of the day.
Tour The Delaware Art Museum with Dr. Sophie Lynford (pictured below): The Delaware Art Museum boasts the most comprehensive collection of British Pre-Raphaelite art in the United States. This fall, the museum will present "The Rosettis," a major international loan exhibition organized in partnership with the Tate Britain. It will be the only museum in the United States to host this exhibition after it closes in London. The exhibition features the art of the Rossettis, the family that includes Dante Gabriel Rossetti, a founder of the Pre-Raphaelite Brotherhood (a detail of a Dante Gabriel Rosetti painting is pictured above), his wife, Elizabeth Siddal, and siblings, Christina, Maria, and William Michael Rossetti. The Pre-Raphaelites inspired generations of artists to blend realism with medieval revivalism, and the poets, writers, and painters of this prodigiously artistic family blended their passion for social justice with their commitment to reforming outdated academic artistic traditions. Our group will be treated to two Curator's Tours with Dr. Sophie Lynford, the Annette Woolard-Provine Curator of the Bancroft Collection. Lynford will guide our group through the museum's Pre-Raphaelite collection and the special Rossettis exhibition.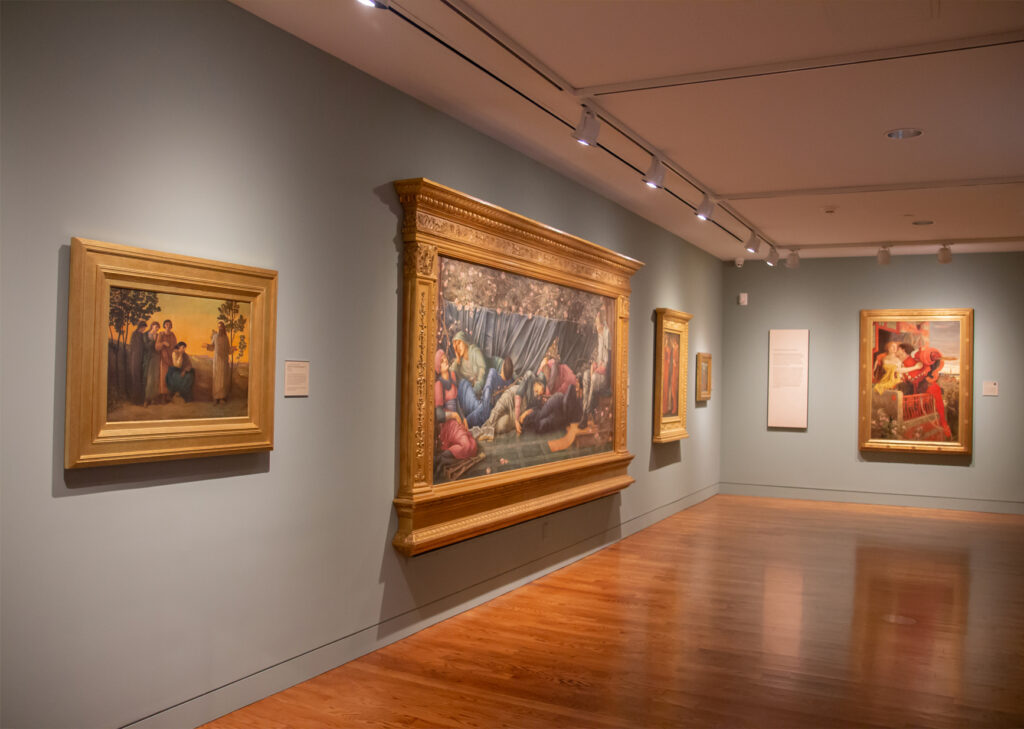 Photo above: The Pre-Raphaelite Art Galleries at the Delaware Art Museum; courtesy of the Delaware Art Museum Photo at top: La Ghirlandata, 1873, Dante Gabriel Rosetti, Oil on canvas, Guildhall Art Gallery; Photo courtesy of The Delaware Art Museum; Photo Credit: City of London Corporation.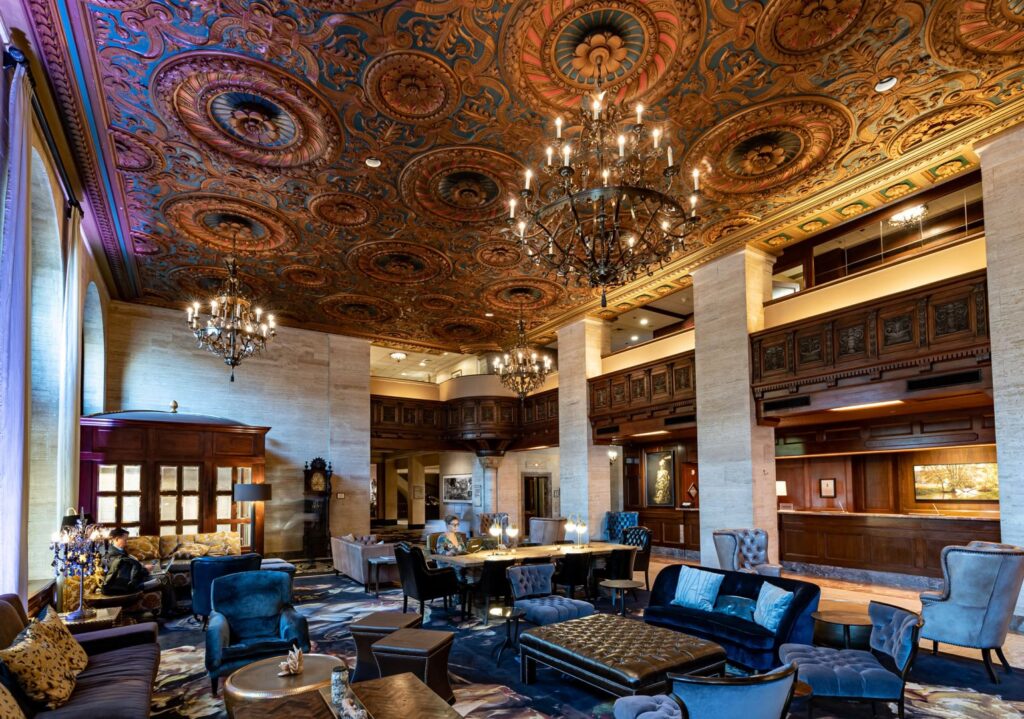 Stay at the elegant Hotel Du Pont (pictured above)
We'll stay at the 5-star Hotel Du Pont. This historic boutique hotel, a member of Historic Hotels Worldwide, overlooks Rodney Square in the historic district of Wilmington. Once the headquarters for the DuPont Company, it remains a landmark example of Italian Renaissance architecture.
And More! Planning for Farms Afield in the Brandywine Valley is still underway. More details will be shared as they are finalized.
$2100/per person for double occupancy
$2600/per person for single occupancy
*Farms Afield Notice*
Limited availability. If interested in attending, please contact the Museum office at 973.540.0311 for more information.
Farms Afield is a member benefit and open only to members of the Stickley Museum at Craftsman Farms. Space is limited.
Travel Dates:
Farms Afield activities begin in the morning on Thursday, November 2 and end in the evening on Friday, November 3. Participants should plan to arrive on Wednesday, November 1 and depart on Saturday, November 4.
Fees include:
A 3-night stay at the Hotel Dupont, beginning Wed., Nov. 1 (check in is at 3:00 p.m.) and ending on the morning of Sat., Nov. 4 (check out is at noon).
All trip activities on Nov. 2 and Nov. 3, plus transportation to and from all activities via motorcoach.
Two lunches and one dinner.
*Travel to and from Wilmington, DE is not included. 
Not a Member? You can join or renew your Membership when you register for Farms Afield.
Planning to come early or stay later? Let us help. Call the administrative office at 973-540-0311, and we will put you in touch with our contact at the hotel.
By prior arrangement, attendees are welcome to pay trip fees in installments. Complete the registration (check "payment plan") and contact the museum's administrative office at 973-540-0311 to set up installment payments. Cancellation policy: Full refunds are available through Saturday, September 30, 2023; after this date 50% refunds will be provided. No refunds are available after the trip begins.