Peach Season
By Kristen McCauley, Senior Manager of Education and Interpretation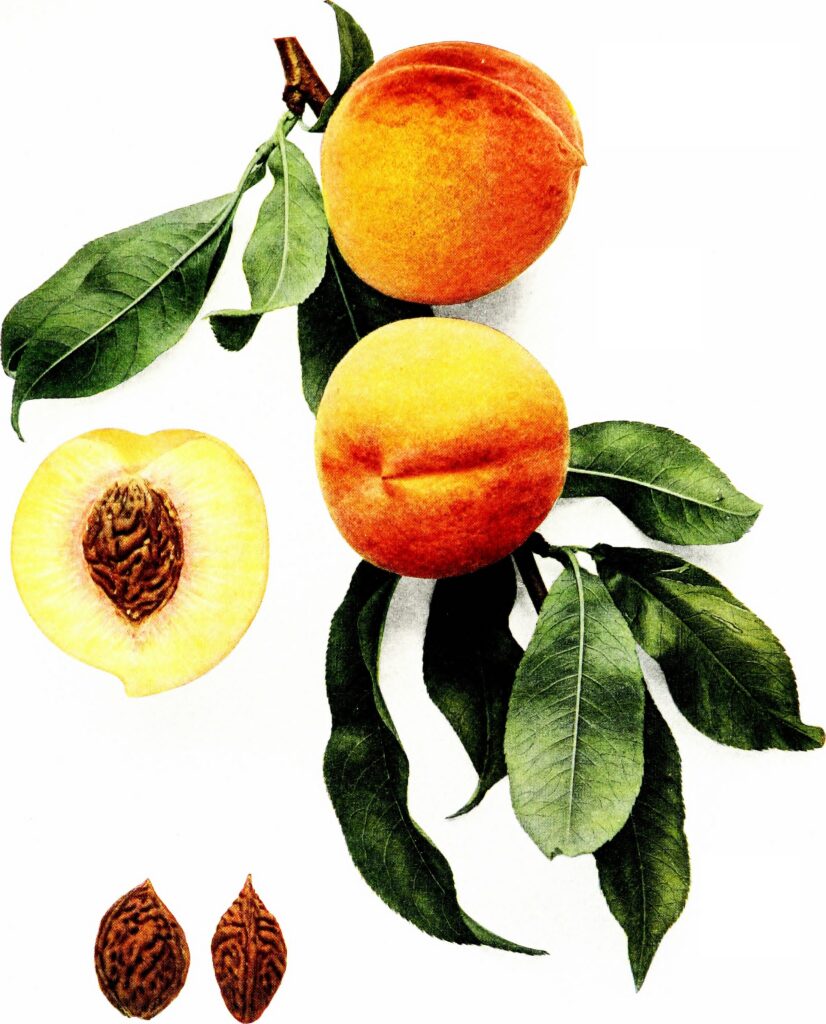 Don't you just love the summery sight of a bowl of brightly colored, fresh-picked peaches on the kitchen counter? It's peach season here in NJ and we're looking at the history of the New Jersey peach, and its connection to Gustav Stickley's early twentieth century agricultural endeavor, Craftsman Farms. In this post, we're sharing a fun craft for kids using only a few simple materials, and a sweet recipe from 1917 to help you make the most of your fresh picked peaches.
Today, New Jersey is a major producer of peaches with a season from late June through September. Most peaches in NJ are of the yellow flesh variety, with John Boys being the most popular, but white peaches and nectarines thrive here as well.
Image: Hedrick, U. P "The peaches of New York," J.B. Lyon Company, printers, Albany. 1917. https://archive.org/details/cu31924008492203/page/n11/mode/thumb
[ Jump to Craftsman Kids: Peach Suncatcher Activity]
[ Jump to Craftsman Kitchen: 1917 Peach Pudding Recipe ]
The Garden State has a long history with peaches, dating back to the 1600s when they were brought over from Europe. New Jersey proved to be well-suited to the growing of peaches, with ideal day and night temperature and other conditions. According to the New Jersey Agricultural Experiment Station, at Rutgers University, by the late 1800's the state was well known for its abundance and quality of peaches, with Hunderton County (Morris County's neighbor to the west) as the center of peach production.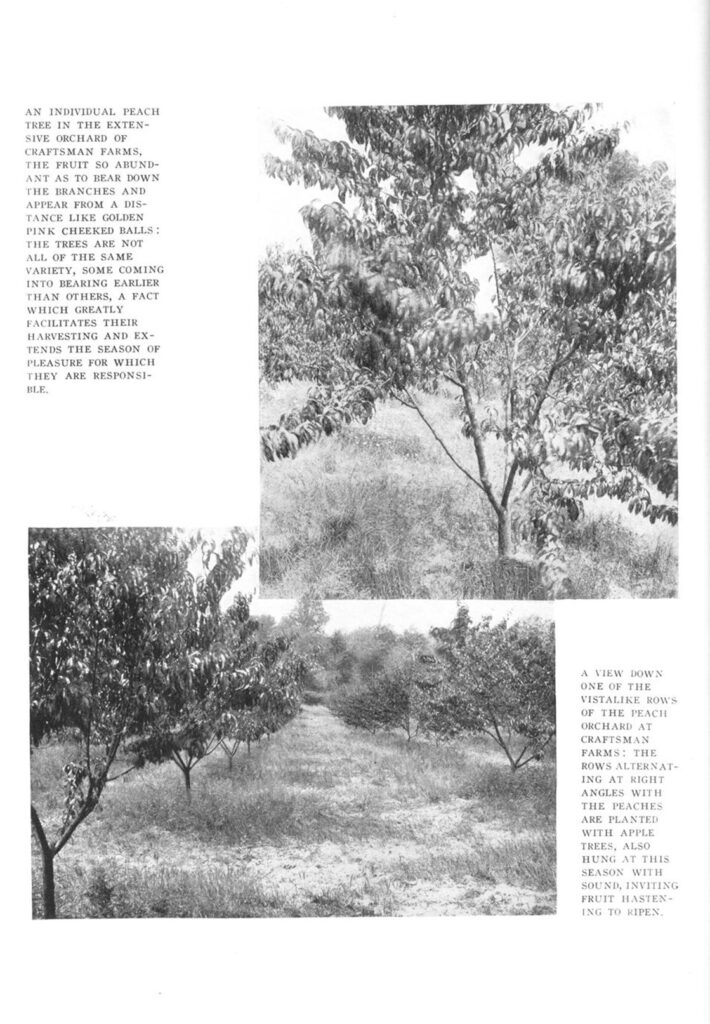 For several years in the early 20th century, Craftsman Farms was home to an extensive peach orchard, with fruit "brilliant in color," and "so abundant as to bear down the branches." During Gustav Stickley's residency at Craftsman Farms, from 1910 – 1917, and probably for some years after, the orchard was located to the northeast of the Log House and gardens, some distance from, what is today, the historic core of the Craftsman Farms campus. In the October 1913 issue of The Craftsman magazine, Stickley described the orchard as being situated "where it will be sunny and sheltered," in "just the place where a grove of peach trees will add the last touch of beauty to the surroundings." The article also included two photographs of the peach orchard.
In Stickley's orchard, the peach trees were planted in alternating rows with apple trees, which have darker, heavier foliage than the long, light leaves of a peach tree. The orchard was practical as well as ornamental. The contrast of the two varieties of trees created "a sight exquisite indeed when viewed through long vistas of trees, one after another holding proudly its treasures."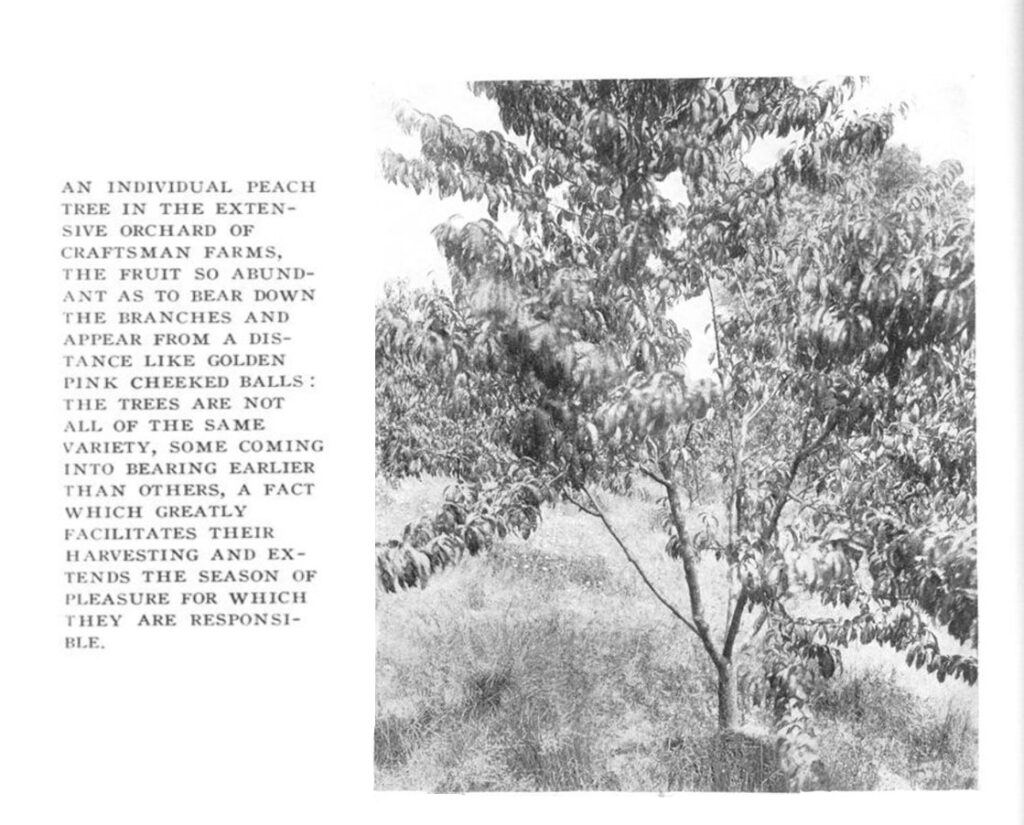 The article goes on to describe the success of the peach orchard as a direct result of its location in the sunny New Jersey hills. "They have responded to the wisdom of their planting in this section of the country …[the] peach belt of the northeastern States. The length of the American autumns, the frequent open winters and the protection by side hills… mark this dulcet strip of country as very desirable for the growing of this important crop."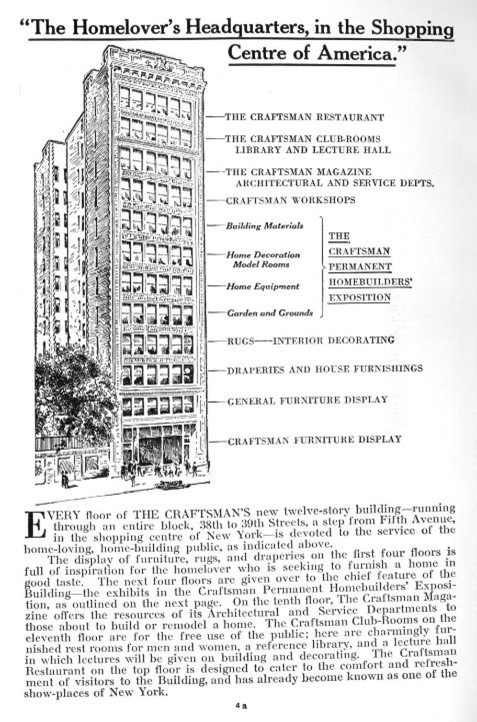 At the same time Stickley was developing Craftsman Farms, he also established a significant retail presence in New York City, The Craftsman Building, on 39th street. "The Homelover's Headquarters," as it was dubbed in print, included The Craftsman Restaurant on the top floor. The restaurant was a place for his visitors, after browsing and shopping for furniture, rugs, and draperies, to stop and refresh. The restaurant had a home-like charm, with a "simple, wholesome, varied, and daintily served" menu. But one of the most interesting features of the restaurant was its connection to Craftsman Farms, from which poultry, dairy products, spring water, fruits and vegetables were brought fresh each morning.
In so doing, Stickley's Craftsman Restaurant promoted a close relationship between farm and kitchen. He bemoaned other eateries, whose products had to spend long stretches of time on trucks and freight trains before finally arriving at your table.
Among the menu's simple and wholesome options were brandied peaches, likely harvested from the peach orchards at Craftsman Farms.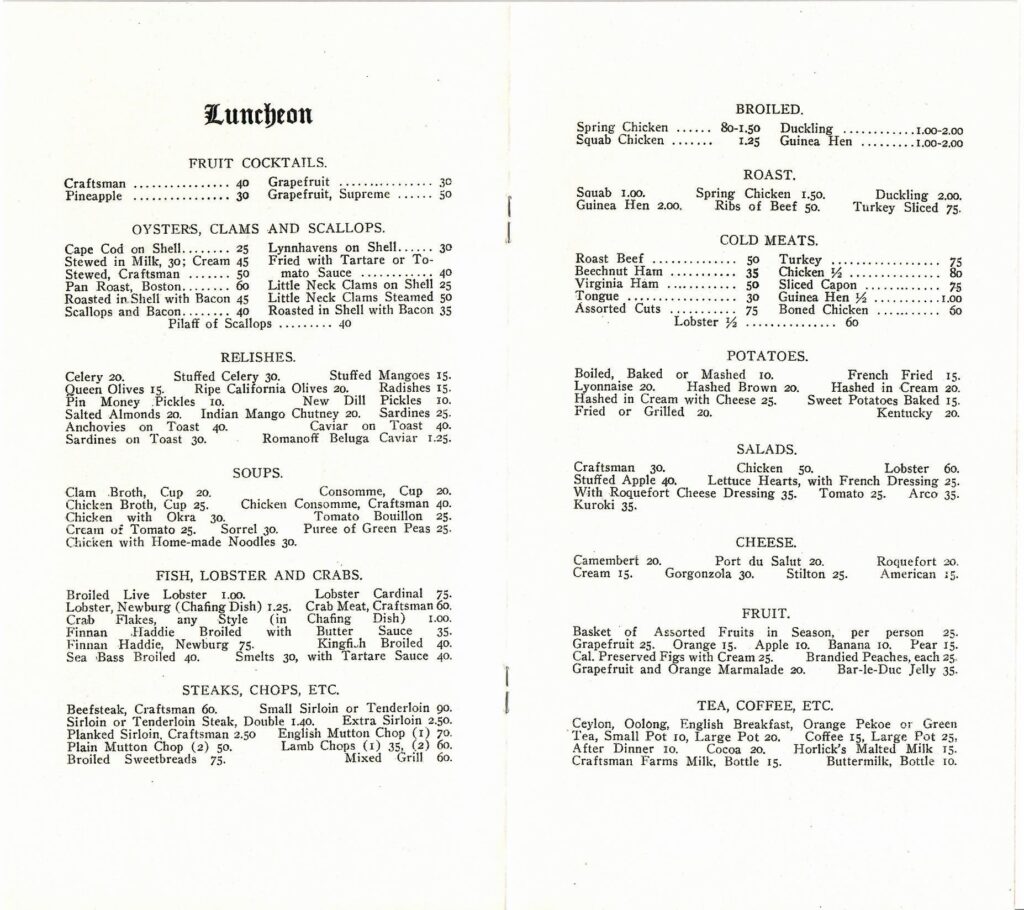 While peaches were, and are only in season for a short time, they are well suited to preservation, and when preserved can be enjoyed year-round. If, like Stickley, you oversaw a large fruit orchard, preserving fruit is an economical way to deal with an abundant crop and to utilize large quantities of fruit. For the rest of us, it means we have the potential to enjoy summer's brief bounty, even in the cold depths of winter.
One way to preserve peaches is to brandy them – a form of water bath canning. Recipes for brandied peaches date back to at least the 18th century, coinciding with the explosion of peach trees in the states, and are commonly found in cookbooks and other homemaking publications from the early twentieth century.
One such source is Mrs. Beeton's Book of Household Management, which, though considered the final word in homemaking and cookery in its time, infamously included recipes copied from other successful cook books of the day, like a Victorian-era listicle. More than just a cookbook, however, it is an encyclopedic guide to keeping house in the Victorian era. First published in 1861 when Mrs. Beeton was only 25 years old, the book was greatly extended in the years after her death (in 1865 at the age of only 28). By 1906 the book was over 2,000 pages, "exclusive of advertising", with nearly 4,000 recipes. "The Book of Household Management went on growing to monumentality without her; …. Mrs Beeton became, after her death, a construct, a brand; also, a goddess in the sense of one who defies mortality." "…early reprints of her book carried an obituarial note from the widowed Beeton. But Ward Lock, which bought the copyright from the grieving relict, later suppressed this item, allowing readers to imagine – perhaps even as late as 1915 – that some mob-capped matriarch was out there still keeping an eye on them." (Julian Barnes, The Guardian, 2003.)
So what did Mrs. Beeton have to say about peaches? That they are well suited to preservation and the nectarine is the superior fruit. Well then.
The museum holds a copy of the 1906 edition of the Book of Household Management. In it, Mrs. Beeton's recipe for peaches preserved in brandy calls for ¼ pound of sugar for every lb. of fruit, and brandy. The peaches are pealed and placed in a sealed jar with the sugar and brady. The jar is then placed in boiling water and allowed to simmer until the brandy is just to the point of boiling and the fruit is tender. (If you are canning today, we wouldn't recommend attempting to follow historic sources, but rather strictly following canning instructions from a trusted contemporary source in order to ensure food safety. For that reason, we won't be testing or tasting Mrs. Beeton's recipe. We apologize for the disappointment, but desperately want to avoid food poisoning. I followed this recipe instead.)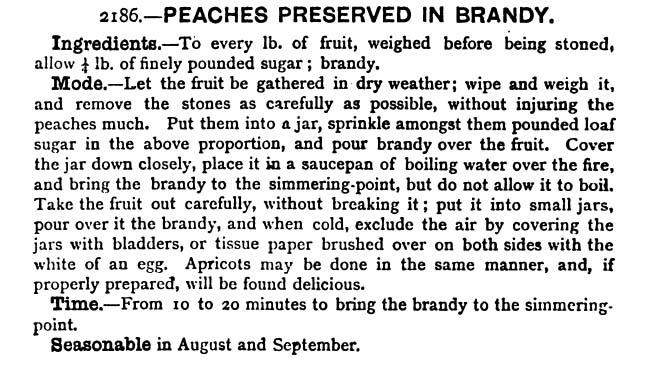 Brandied peaches can be served with ice cream, over pancakes or waffles, or served and eaten right from the can for dessert. Then and now, canned, or brandied peaches can be used in many recipes calling for peaches. We tried this recipe for Peach Pudding, from the 1917 edition of the Ryzon Baking Book. Though it doesn't specifically call for brandied peaches, we think the recipe's author, Mrs. French would welcome the improvisation. We hope you have a chance to enjoy some local peaches this peach season and when you do, maybe give this recipe it a try. Let us know how you enjoy your fresh local peaches.
Pick your own peaches in NJ: https://www.njfamily.com/pick-your-own-peaches-in-nj/
---
Craftsman Kids: Peach Suncatcher
MATERIALS:
Clear Contact Paper
Tissue Paper in a range of warm colors, like yellow, red, orange, and peach. Cut into small squares
Construction Paper: Brown – 1 sheet; Green- 1 sheet
Scissors
Peach Template

Start with our downloadable PEACH template, which includes a peach frame and leaves.
On brown construction paper, trace the Peach frame and cut out.
On light green construction paper. trace the leaves and cut out.
Peel one sheet of clear contact paper and set sticky side up at your work space.
Add your Peach frame, and then your leaves. Gently press to smooth.
Take one piece of tissue paper at a time and fill in the center of the peach.
Try to cover the entire inside space.
Overlap some of the pieces of tissue to make your suncatcher look like stained glass.
Carefully lay a second sheet of contact paper on top of your peach — sticky side DOWN! This will seal everything in.
Trim away the extra contact paper with your scissors.
Your Peach is ready for the sunshine!
Display your peach suncatcher in a sunny window.
---
Craftsman Kitchen: 1917 Peach Pudding
INGREDIENTS:
2 Cups Flour
1 TBSP Butter
1/2 Cup Sugar
1 Egg
3/4 Cup Milk
1/2 TSP Salt
3 TSP Baking Soda
Cream butter and sugar together.
Mix butter and sugar together until well blended, fluffy and pale yellow.
Beat in egg.
Add Salt. Mix until combined.
Sift together flour and baking soda.
Add alternately milk and flour/baking soda to the mix.
Stir until it makes a sticky dough.
Spread the batter in a greased baking pan. Top with sliced peaches. Sprinkle peaches with sugar.
Bake at 350* for 45 minutes.
Serve with whipped cream and ENJOY!
---
Sources:
jerseypeaches.com
National Center for Home Food Preservation: Selecting, Preparing and Canning Peaches
A History of the New Jersey Peach, By Ernest Christ, Professor Emeritus, Rutgers NJAES, Cooperative Extension
Beeton, Mrs. Isabella Mary, "Mrs. Beeton's Book of Household Management," Ward, Lock, London. 1907.
French, Mrs. F. W., "Ryzon Excellent Peach Pudding," Recipe. "Ryzon Baking Book." Ed. Marion Harris Neil, New York: General Chemical Co., Food Dept. 1917.
"Craftsman Farms: Its Development and Future," The Craftsman, Vol. XXV, Number 1. October 1913.
"The Craftsman Restaurant: By a Visitor," The Craftsman Vol. XXV, Number 4 January 1914.