Staff Pick: Yoshiko Yamamoto "100th Anniversary" Print Scarf
By Vonda K. Givens, Executive Director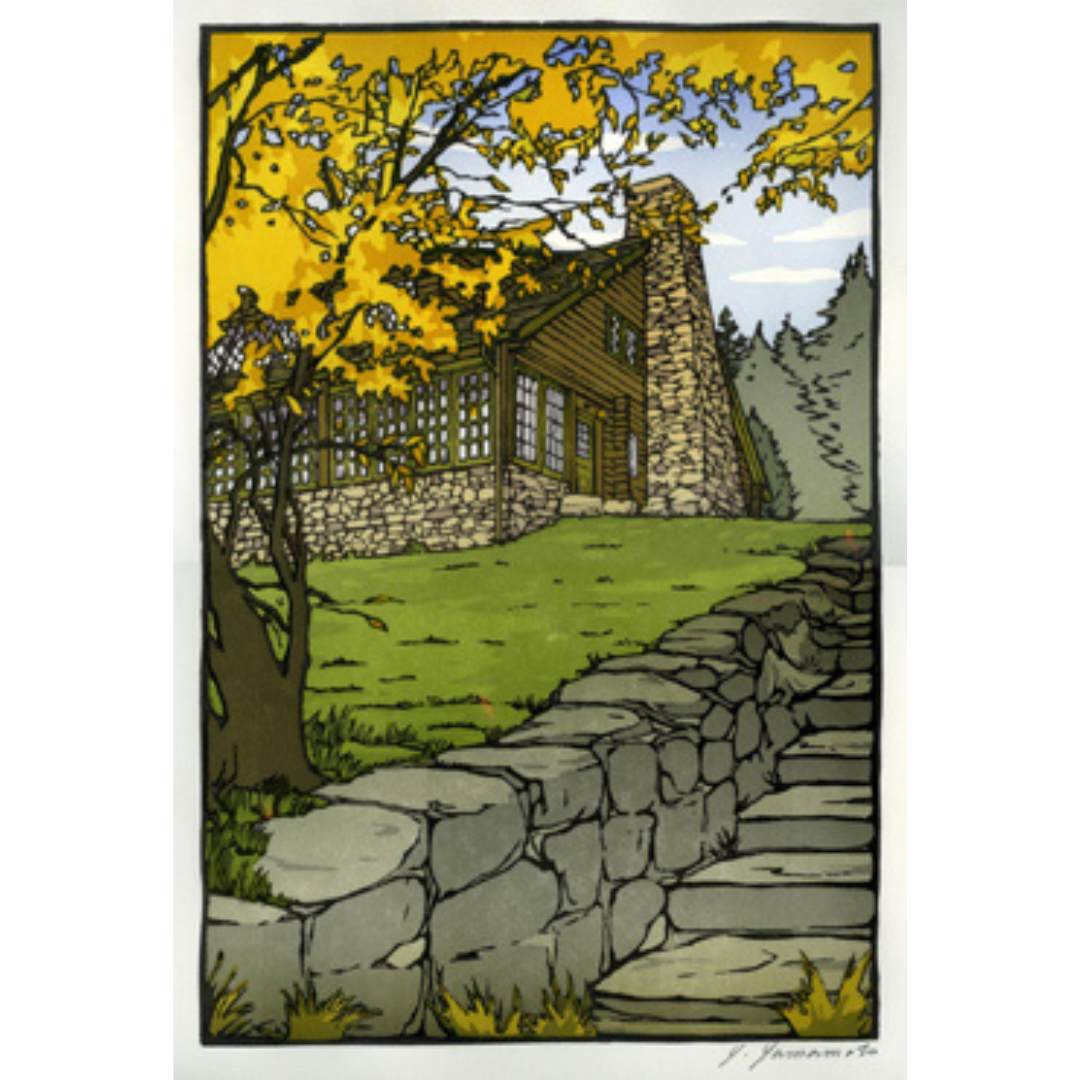 When you have access to a shop in your workplace, especially one as nice as The Craftsman Shop, it can feel (at least for me) like a fringe benefit of the job. In fact, I have gifted friends and family with so many Craftsman Shop items that I can no longer remember who has what and have placed a (self-imposed) freeze on this practice. So, I'm buying fewer gifts for others, but not to worry, I'm still making plenty of purchases for myself, and I use them all. I have mugs, ornaments, bookmarks, jewelry, notecards, T-shirts, and two beloved sweatshirts (and more that I'm forgetting). There's always something new coming along (I don't have the new baseball cap yet), but The Craftsman Shop's scarf (above right), produced from Yoshiko Yamamoto's Craftsman Farms "100th Anniversary" block print (above left) holds a unique spot in my life because I have purchased it twice (the beautiful print is pictured above. It had a limited run of 500, but a few are still available. Click here to add it to your art collection.).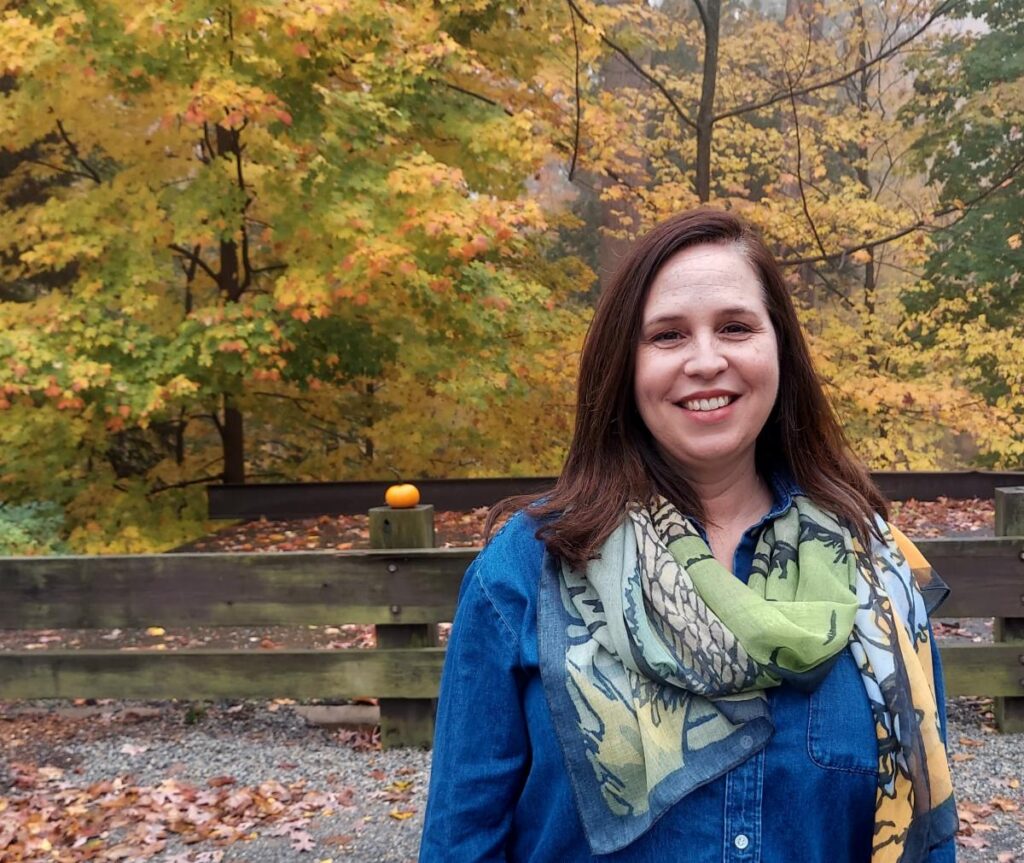 The print commissioned for the Craftsman Farms centennial in 2011 has–with the artist's blessing–inspired many shop items, including a wildly popular puzzle (which, sorry folks, is now out of stock). Because new items routinely arrive, my second purchase of the scarf is notable.
I lost scarf one (that's me yesterday, wearing the replacement). I cannot imagine where or how, but it disappeared.
Surprisingly, instead of buying it at the museum, I had purchased scarf one at the museum's table at the National Arts and Crafts Conference in Asheville, NC, the year it was introduced. I bought it in Asheville because at this February conference, the weather fluctuates regularly (hourly?) between sort of winter and sort of spring and an extra layer comes in handy.
The conference scarf was the one I lost. Somewhere. Or did I loan it out? In any case, it disappeared, and I really did feel its loss. I had purchased it out of convenience, but it turned out to be a perfect scarf for cool weather: lightweight, drapes well, and stays put (you don't have to keep adjusting it). It adds a little warmth, but not enough to make you overheat. It's easy to toss into a bag "just in case," if the temperature drops. And when you do need it, the wrinkles shake out with wear, so it doesn't look like a lumpy mess around your neck.
My favorite thing about the scarf is its colors. It turns out that the lovely color scheme Yamamoto used in her block print—golden yellow, brown, gray, and yellow green—are eye-catching, unusual to find in a scarf, and flattering. Especially when autumn rolls around, it's an accessory I want to pull out of my drawer, and that's probably how I realized my first one was missing. So, I did something I have rarely done with any of my purchased-at-work items, I bought it a second time.
I invite you to buy one for yourself—and don't lose it!—and see if you like it too. Every purchase supports the museum's mission. So when you buy it, you're giving a gift to yourself and the museum. How lovely! What other scarf can you buy that will make you look good and feel good at the same time?
–Vonda K. Givens, Executive Director