Shop and Support
All purchases support the preservation and daily operations of the Stickley Museum at Craftsman Farms.
Museum Exclusives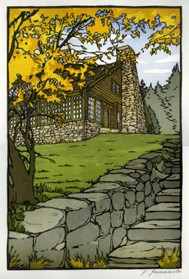 "100th Anniversary" signed and numbered block print by Yoshiko Yamamoto, commissioned by the Stickley Museum at Craftsman Farms to commemorate the 100th Anniversary of Craftsman Farms.
12 x 17.5″
Limited Edition of 500.
Print number will be from the 400s.
$50 + S&H
This beautiful depiction of the Log House, the Stickley family home, described by Gustav Stickley as the "permanent center" of Craftsman Farms, was rendered by Yoshiko Yamamoto in the traditional Japanese woodblock style. Distinguished artist, Yamamoto, founded The Arts & Crafts Press, in Berkeley, CA, with her husband.
To learn more about Yamamoto and her work, click here: https://artsandcraftspress.com/pages/our-staff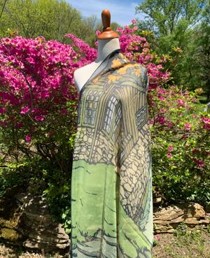 Yamamoto Log House Woodblock Polyester Voile Scarf
How to Order
To order, email shop@stickleymuseum.org with a purchase request. A secure invoice will be sent to you for payment.
Send us your Questions
Email shop@stickleymuseum.org with questions or for more information.